I have decided to compile a list of actors and actresses whom I feel are very underrated. Now many of these performers I am sure you will recognize from somewhere, not perhaps by name, but you will have probably seen them in something, you're favourite show, in a big film, hear their voice in a video game or you might even just have seen them in an advert.
Point is however none of them are what you would call household names and I feel that all of them deserve much more recognition than they currently have.
Its always nice when there is an actor you spend years as a fan of who suddenly lands their big breakthrough role and becomes a huge star. Naomie Harris was one such example. I had been a big fan of hers for years before she landed her role as Money Penny in "Skyfall" which has obviously seen her profile rise.
I only hope the same happens for all of the performers in this list. Many of them have already landed a big role in a prominent series and even have devoted fanbases, but obviously again among the general public they are still somewhat overlooked.
10/ Natalie Gumede
Natalie's biggest role to date was as Kirsty Soames in Coronation Street. She has popped up in a few other things including the most recent Christmas special of Doctor Who "Last Christmas" and a recent episode of "Death in Paradise".
She also took part in a series of Strictly Come Dancing as well.
Her star does seem to be on the rise, so I wasn't sure about including her here, but still I think she could easily play a leading role in a series, rather than just prominent guest appearances.
She is a very versatile actress. This can be seen in her role as Kirsty alone. Kirsty I found to be one of the best villains in Coronation Street .
She was a somewhat more nuanced character who was genuinely damaged and scarred from her traumatic childhood where her father used to beat both her and her mother. The audience could and did have sympathy for her many times. However at the same time she was an abusive, violent, controlling sociopath who destroyed her boyfriends entire life and many of the scenes where she abused Tyronne including beating him to the floor, crushing his hand in a door, smacking him across the face with a spoon were among the most disturbing moments ever seen in the soap.
Gumede like all truly talented actors is able to make us feel a mix of different emotions through the character of Kirsty even within the same scene. One such moment is when she attacks her lover and smashes all of his belongings including a picture of Jack Duckworth, a man with whom he was very close, even when he begs her not to.
This scene is so intense thanks to Gumede's performance. On the one hand yes it does make you hate Kirsty, as she destroys the person closest to hers belongings. However at the same time you can't help but pity Kirsty because Gumede doesn't just make her a raving lunatic. She makes the character seem more distressed in these moments than genuinely angry. You just wish she would stop not only for his sake, but her own as she is destroying the one chance at happiness she has simply because she can't get over her own traumatic past. She is her own worst enemy. Its a truly heartbreaking moment all around, and its really thanks to Gumede's performance that you look on Kirsty this way rather than just an out and out villain which she could easily be.
There are so many different types of roles Gumede could play. Obviously she makes a great villain, but she definitely has the charisma and screen presence for a strong heroic role too.
9/ Damien Molony
Now Molony is most famous for playing the Vampire Hal in the BBC three series "Being Human". He was a main character in seasons 4 and 5. Sadly this has been Molony's only major role so far on television. Though it should be noted he is at the very beginning of his career, and he has already landed a leading role on a major cult series. Perhaps he is not so underrated after all!
Still I would like to see Molony in more major roles. I actually preferred him to Aidan Turner who played the previous Vampire lead in the series and has since gone on to star in "The Hobbit" film series. I do like Aidan Turner don't get me wrong, and I am glad that he has landed such a big role. Still I would also like to see Molony land bigger parts too.
Molony would make a great Doctor Who in my opinion. He has a natural eccentricity and larger than life presence that is needed for the Doctor.
Molony was actually rumored for the role of the 12th Doctor, and he was actually my favorite to win the role until Capaldi was announced.
Capaldi was definitely the way to go after Matt. Molony would have just been another weird and cooky young guy like Matt. I am not saying that I want Capaldi to leave any time soon either. I love Capaldi and I hope he stays on for 5 years. 3 years is in my opinion too short and I think its a shame that that has become the standard run for the Doctor. I hope Capaldi breaks it and we get 5 years of 12. 7 years like Tom is too long for any actor (even Tom!), but 5 I'd say is exactly right.
However whilst I am in no hurry to see Capaldi relinquish control of the TARDIS, it must be said that Doctor Who is definitely a role that Molony would be excellent in and I hope he is cast after Capaldi as 13.
8/ Phil Davis
I have actually only seen this actor in one thing. His role as Captain Hatch/The Devil in Being Human. Still it was such a brilliant performance that it was enough for him to make this list. Hatch is arguably the most loathsome and repulsive villain in the whole series. He is old, wretched, his teeth are rotting, he stinks and he enjoys torturing people and talking them into killing themselves. He is absolutely vile in every way and Davies is superb in the role, he really brings a lot of menace and repugnance to the character. I'd cast him as a villain in anything.
Here he is in action.
7/ Katie McGrath
Now this talented actress is most famous for her role as Morganna in the BBC series Merlin. Since then she has appeared in quite a few big productions. She even has a small role in the upcoming Jurassic World.
Still I think Katie could easily become a leading lady. She has a brilliant, captivating presence and stunning good looks. She is one of these people who is so beautiful she looks like she literally walked off of a comic book page.
She could easily play a role like Wonder Woman, Catwoman, Poison Ivy, She Hulk (think of how excellent a She Hulk she would be!).
The fact that she is landing more roles in American productions gives me hope that she might land a major role soon.
The character of Morganna was not that well written, but McGrath really brought her to life in such an excellent way that she remains one of my favorite female villains.
6/ Christopher Heyerdahl
This talented actor has so far had a few prominent roles in some genre series, most notably as Alistair in Supernatural. Christopher for me is the perfect villain actor. His performances as Alistair was deeply chilling and unnerving. Whilst I am sure he could play many roles, I think he would be the ultimate villain actor and deserves higher profile badguy roles. Imagine him as a Marvel Cinematic Universe badguy, or a really crazy, sadistic Bond Villain or a terrifying Doctor Who alien. Its annoying how underused this guy is.
Even when he is the one being tortured he is still the scariest guy in the room.
5/ Jason Watkins
Now this character actor has had a very successful career on television and in theatre. Arguably his most famous role is as the Vampire and villain Herrick in Being Human. Though he has had a very steady career I don't think he has gotten the recognition he is due yet. Also sadly he is often wasted such as in Doctor Who where he played the most minor of roles in Neil Gaiman's " Nightmare in Silver". He should have been a main villain without doubt.
Watkins benefits from having a very strong, commanding and clear voice. Like many character actors he is probably better suited to villains, though he has also had success in more sympathetic roles too such as Christopher Jeffries. I could definitely see him in either a leading sympathetic or villainous role.
4/ Zawe Ashton
This talented actress has proven herself adept at both comedy and serious drama. Her favorite role of mine is Journey Blue in the Doctor Who episode "Into the Dalek". She is able to really make any role regardless of how small it is memorable. Personally I would love to see her return to Doctor Who as I think she managed to create a very memorable character in Journey Blue who played well off of Peter Capaldi's 12th Doctor.
3/ Pippa Bennett-Warner
This versatile young actress has sadly so far only really landed a few guest roles on a number of television series. Though she has still appeared in quite a few big series including "Death in Paradise" and "Doctor Who" in the episode "Time Heist"  as Saibra.
Whilst she seems to be establishing herself as quite a reliable character actress I think she could easily do a lot more. I could definitely see her as a regular in a series. Still its early days yet in her career and I hope to see a lot more of her in the years to come.
2/ Ingrid Oliver
Ingrid Oliver is both an actress and a comedienne. She is part of a comedy double act "Watson and Oliver" alongside her friend, the talented Lorna Watson. However she has also branched out and taken on more serious dramatic roles with arguably her most prominent being as the lovable Doctor fan girl Osgood in Doctor Who.
Oliver is definitely one of the most versatile actors on this list. There is virtually no part she can't play. Just take a look at the videos below and you'll see how she can do everything from a wimpy, crying damsel in distress to a butch, tomboy rapist to a shallow valley girl.
There is virtually no limit to the roles she can play. She looks like a completely different person in each of her different roles.
Following her performance in Doctor Who Oliver has received a lot more attention.
I am amazed that it has taken her so long to be honest as she really has everything going for her. She is versatile, gorgeous and has an absolutely lovely voice. Her accent is strong, but not overbearing, she is a very clear speaker and her voice is strong too.
However I still think she is a little bit underrated as I feel there are far more parts that she could play.
I was really annoyed when Steven Moffat killed her character off in the story "Dark Water/Death in Heaven".
The role that I would most like to see Ingrid play is She Hulk. Now She Hulk is one of my favorite Comic Book characters and I would love to see her be made part of the Marvel Cinematic Universe.
Ingrid to me would just be the best possible choice for the role. She could play She Hulk's human alter ego Jennifer Walters who is portrayed as a more shy, timid, geeky, character like Osgood brilliantly, however at the same time she could definitely play the harder, confident, strong willed, tomboy She Hulk just as well.
She would even be able to look like both of them and that I think is quite rare. Most actresses you see suggested for the character would only be good for either Jennifer or She Hulk. Either they'd look too small and geeky for She Hulk or too big and muscle bound for Jennifer. Ingrid however much like Christopher Reeve as Superman would be able to switch between the geekier and the more heroic personalities and really look like two totally different people.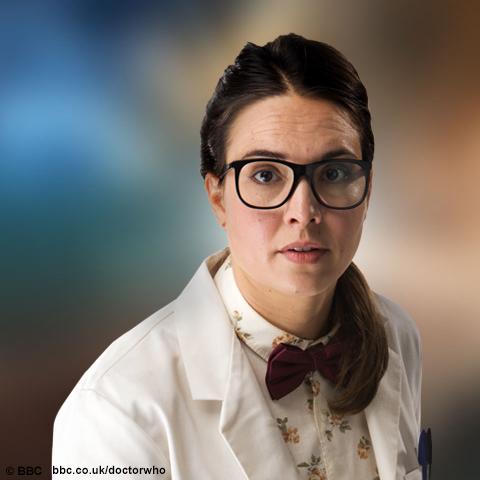 Jennifer Walters
She Hulk
I really, really hope someone out there at Marvel casts Ingrid as She Hulk. One of my fave actresses as one of my fave characters would just be too good to be true!
Update: It has been announced that Ingrid Oliver will be returning in TWO stories for the upcoming series of Doctor Who as Osgood. Well don't I look like a complete and utter moron. Apologies Moffat.
1/ Simon Templeman
Yeah I know big surprise as a follower of my blog Screensage (whose blog I highly recommend!) said I do have a bit of a man crush on Simon Templeman.
To me Templeman is the ultimate villain actor. His rich, strong and posh voice is just ideal for a villain of any kind. Templeman has had a very successful career as a character actor. I covered his career in Cult actors. He is mostly known for his voice work particularly in video games, with among his most prominent voice work being the Vampire Kain in "The Legacy of Kain" series, Loghain Mac in the "Dragon Age Origins" series, and Danik in "Dead Space 3".
Whilst he has certainly carved out a niche for himself having become the go to guy for video game baddies, this guy seriously deserves to be a villain in something major. A comic book villain, a Bond villain, think of how awesome he would be in those types of roles! I would have loved to have seen him voice Smaug in "The Hobbit film series" Cumberbatch was good, but Simon's voice coming through the Dragon would have just been glorious.
Here is the great man in action
The other big role I'd like to see Templeman play is that of his signature role Kain on the big screen. I really don't know why there hasn't at least been an animated series based on The Legacy of Kain franchise never  mind a film. Its such as excellent, complex and fascinating story its just waiting to be told on the big screen. With the way Vampires are being stripped of all their menace, just think how awesome Templemans Kain would be on the big screen!
Still at the very least there have been some fan edits of all the cut scenes and gameplay of the games in the series that have been pieced together as films on youtube which might give you some idea of what a film version of Kain would be like.
Simon Templeman is in my opinion one of the most underrated actors of all time. Whenever you see him you think "why hasn't this guy been a Bond villain, or Dracula or The Master in Doctor Who?" Still at the very least through his many video game roles he has developed a very devoted cult following, but still I say the guy should be in way more things and the two roles I want to see him in more than any other are a big screen version of Kain and the Master in Doctor Who.