Controversial opinion I know but hear me out on this. The Late Philip J Fry is often cited by both fans and the creators of the show itself as being among the best episodes of the series.
As a story in its own right its very well written and well acted, it contains plenty of great laughs and some really touching moments too, such as Leela's message to Fry (see above). It also has at its core a very interesting premise from both a comedic and science fiction perspective, and it features wonderful shout outs and parodies to some of the greatest sci fi stories ever told, from The Time Machine, to The Planet of The Apes, to The Hitchhikers Guide to The Galaxy.
So with this in mind why would anyone dislike this episode. Well when you actually look at it closely you can see that it completely ruins the Fry and Leela relationship and the story of the show overall.
The story sees Fry, Bender and the Professor accidentally travel forwards too far in a machine that can only travel forward in time. Arriving in the year 4000 the three of them decide to travel further forward in the future to a point when a machine that can travel backwards is invented. Unfortunately they go too far and arrive at a point when all life is extinct on the planet earth.
Thus realizing that there is no way back the three of them decide to travel to the end of the universe itself. They survive the death of this universe and arrive in a second universe which has an identical history to our one.
They decide to travel forward to the correct point in this universe, but again arrive too late. So they decide to travel forward to the end of this universe and arrive in a third universe with the same history where they finally arrive at the correct point. Though they end up killing their duplicates in the process. Fry is reunited with this universe's Leela.
Now as you can see the problem with this episode is that technically it kills off the characters of Leela, Zoidberg, Hermes, Amy and Cubert. All the versions of those characters that appear in future episodes are duplicates.
The first Leela who we will just call Leela-1 for the sake of practicality is not Leela-3.
Some fans have argued that it is the same Leela by stating that in Futurama time is a cycle so what happens at the end of The Late Philip J Fry is simply that they are thrown backwards in time, but sorry that isn't the case.
The Professor states clearly that they are witnessing the creation of a new universe, not the old one they left. He also when they arrive in the third universe they eventually settle in says that this universe is several feet shorter than their own one. Thus its clearly meant to be a different universe but with the same history, therefore Leela-1 is not Leela-3. Leela-1 is dead.
Okay Leela and the others are replaced by duplicates who are exactly the same so you might think what's the problem, but sorry for me there is still a huge problem.
Leela-3 is not Leela-1. She didn't go through all of those past adventures with Fry like The Sting, The Devil's Hands Are Idle Playthings and many others. That was an entirely different character. Furthermore the Fry that she went through all of those adventures with is not the same Fry as the one she is with now. That Fry is killed by the original when he and the Professor and Bender land on and crush their duplicates.
Thus this affects future episodes for me such as Fun on the Bun when we see Fry and Leela remember past adventures from series 1-4 as technically they didn't share them together.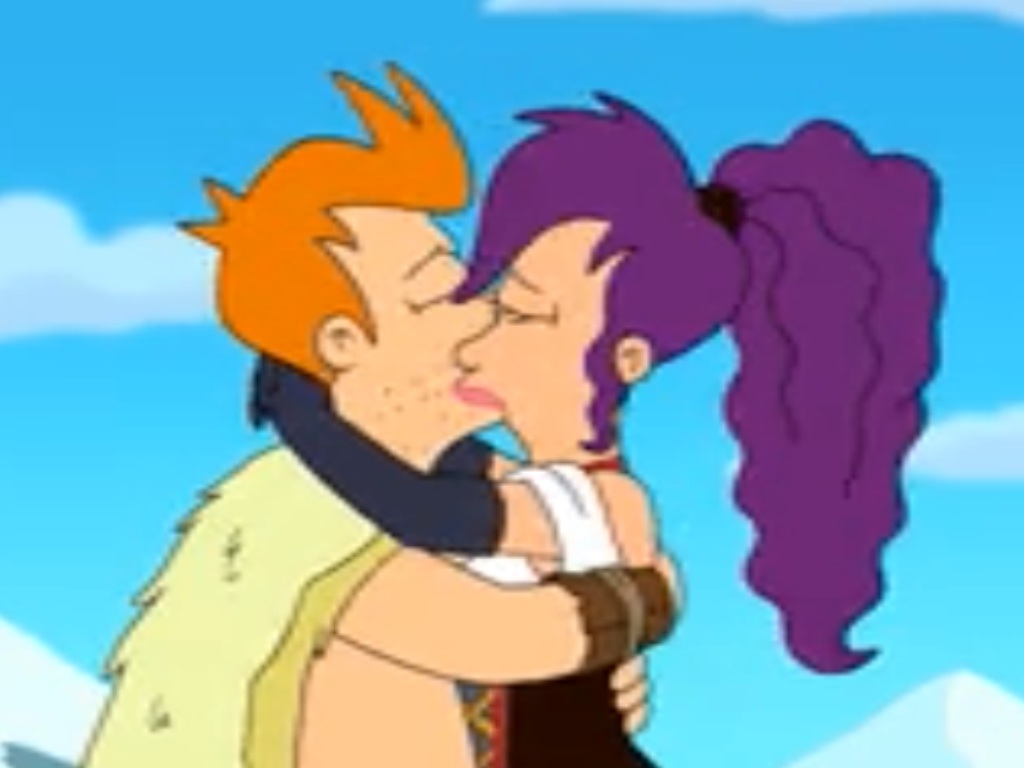 You can see how that might throw a spanner into the works of the Fry and Leela relationship. It also contradicts what we saw in the season 5 opener where Fry did manage to build a Leela robot exactly like the original and wasn't happy with her because she wasn't his Leela. Here its exactly the same situation. His Leela is dead, but he is happy with a copy?
However whilst The Late Philip J Fry may spoil later episodes somewhat this way it has a far worse effect on previous episodes.
Its sad now whenever you watch previous episodes that are Fry and Leela heavy such as The Sting (a fave of mine) as you now know that Fry and Leela ultimately had an unhappy ending.
The Leela from that episode ended up alone. She spent her whole life almost angry at Fry for something he didn't do and worse she ended up with Cubert. Aside from the fact that that is quite creepy. (I certainly can't watch any episodes from season 1-4 with Leela and Cubert the same way again. Not that I liked them much anyway,) but still its quite creepy watching them and thinking that Leela and Cubert will end up having sex with one another!
Its very sad to see Leela end up with a horrible guy who mistreats her, cheats on her with her friend and then dumps her, divorces her and takes half of her well earned money.
It also at the same time ruins other characters too. Amy is made into a irredeemable bitch. She stabs her friend in the back and has an affair with her husband. Whilst Amy may have been mean to Leela in the past this I feel was a step too far and again makes you hate Amy when you watch previous episodes from season 1-4 as you think she is going to end up stabbing Leela in the back, stealing her husband and run off with her money.
Also Zoidberg is given quite an unhappy ending too as he is fired and completely forgotten about by the rest of the crew. I think this was also a bit too far as even though the others were meant to mistreat him it was always hinted that they cared for him underneath.
For all of the main characters from the first 5 seasons to have such sad endings is terrible for me.
Particularly when you see how nice things could have worked out for them in series 7. Leela does end up with Fry, a guy who really loves her for who she is, Zoidberg ends up with a woman who similarly cares for him for who he is.
For me The Late Philip J Fry is an episode that I simply have to scrub from canon in order for me to enjoy the show as a whole.
I think there is a lesson to be learned here that the worst episodes of a certain show for some fans can be ones that change the storyline in a certain way. An episode that is just bad, boring or dull like That's Lobstertainment can just be dismissed and forgotten about, but one like The Late Philip J Fry which actually might be a good story, brilliant even in a number of ways can still be viewed in a more negative light by a fan like me.
If I had my way Fry would have just travelled forward in time in universe 3 to when the machine that could travel backwards in time was invented and used it to go back to the correct point in universe 1 and be reunited with that version of Leela. Leela-1 is the Leela I wanted to see in the series finale marry Fry, not some clone from another universe.
Though I liked the series finale seeing Fry and Leela have a great life together I still felt unhappy with it thanks solely to The Late Philip J Fry. Due to that one episode it is established that that wasn't the Leela from series 1-4, the whole original series run, that was in that episode. She'd been dead for trillions of years. It was simply her clone that had actually spent most of her life with a Fry clone that our Fry killed in cold blood that had that happy ending.
I wonder what her reaction would be if someone dug up the original Fry that she had actually fallen in love with's corpse.