Okay now I know I am a little late to this, but still I feel I had to comment on it.
Recently William Shatner provoked outrage among the regressive left when he posted a series of tweets bashing SJW's.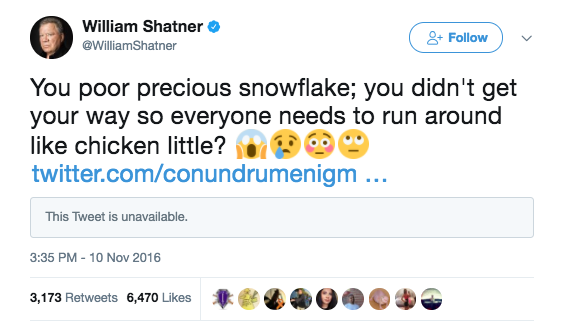 Now I have always been a massive fan of William Shatner. The original Star Trek series is still my favourite incarnation of Star Trek, but my respect for him just went up even further after this.
As many of my regular readers will know I feel that the SJW's have had their talons locked around the sci fi and fantasy genres for the past few years. They ALWAYS have to take over everything they become "fans" of. Famous examples of this include Doctor Who, Ghostbusters and both Marvel and DC.
Sadly however whilst most people hate the influence these people are having on things like Doctor Who and Ghostbusters. (As evidenced by the fact that all the SJW versions of these formerly beloved franchises like Doctor Who, Marvel and DC have all to the last been huge flops.)
Figures Reveal Sharp Decline In Viewers For Doctor Who
Marvel and DC Suffer Slump in Sales
Virtually no one within the entertainment industry at least has spoken out against them. The reason for that is simply because the SJW's are bullies who will slander anyone who disagrees with them and may even finish their careers.
Peter Davison who played the 5th Doctor for instance merely said that people should go a bit easier on those who are unhappy with a female Doctor and was chased off of twitter as a result.
See here. Peter Davison Quits Twitter After Female Doctor Comments
Tim Allen meanwhile in this clip points out how anyone in Hollywood who is even remotely pro Trump is treated like a Jew in 1930's Germany.
Of course it later cost him his career.
Things aren't any better for women either.
Nicole Kidman similarly tweeted that since Trump is our President now we better just get behind him. She didn't even say that she had voted for him, or that she thought he would be a good President, just that at this stage there is no point in complaining about something we can't change.
Kidman subsequently had to endure a barrage of abusive tweets, including ironically from Anita Sarkeesian fanboy Joss Whedon, who mocked Kidman's appearance.
Remember kids the feminist thing to do is call a woman who disagrees with you a turd and mock her appearance.
Then of course any woman who says that she isn't a feminist is often bullied and forced to say she is one, like Taylor Swift.
So with this in mind first of all I think its incredibly brave of William Shatner to not only say anything even remotely negative about SJW's, but to do so in such a blunt, aggressive way too.
Also I think its brilliant that not only has such a major figure from the sci fi genre come out and stood up for geek culture by attacking the biggest threat to it. But the fact that William Shatner was also someone who did combat genuine racism, sexism and prejudice in the entertainment industry just further highlights how the SJW's are not true progressives, but mere posers.
William Shatner starred in one of the most progressive series ever made, Star Trek. It featured a Japanese man a few decades after World War 2, a Russian at the height of the cold war paranoia and a black woman during the height of the civil rights movement among the main cast.
Shatner's character Captain Kirk also had the first ever interracial kiss in the history of American drama. Both he and Nichelle Nichols sabotaged attempts by the network to block the kiss too.
William Shatner on Interracial Kiss
In addition to Star Trek, William Shatner also starred in a Roger Corman film called The Intruder in 1962.
Based on the novel of the same name by Charles Beaumont, Shatner plays the villain of the piece Adam Cramer who attempts to whip up hatred against the black townspeople. At one point he even goes as far as to frame a black man for raping a young girl.
After Wrath of Khan I'd say its the greatest performance of Shatners career. He is every bit as good as the villain as he would later be as the hero.
The Intruder was a remarkable film. Released two years before the Civil Rights Act, it showed how easy it was to whip up racial violence, and the dangerous effect people like Cramer can have on communities.
Of course Shatner wasn't the only famous entertainer who had helped to combat prejudice decades ago, but now viewed the modern day SJW's with disdain.
The late great John Hurt in one of the last ever interviews he gave complained about how modern day society had become too politically correct and how angry he was that people can just decide something is offensive and that's that its not open for discussion.
Sir John Hurt Slams Modern Society For Political Correctness
John Hurt starred in The Naked Civil Servant back in the 1970's which told the life of Quentin Crisp, and much as The Intruder showed us the full extent of racism in 60's America, then The Naked Civil Servant showed us the full extent of homophobia in British society.
Its very telling that people like John Hurt and William Shatner would view the modern day "progressives" as nothing more than posers and bullies.
These are people who did combat genuine prejudice within the entertainment industry and now they have to see a bunch of spoiled brats, who've never dealt with any kind of genuine prejudice, not only making words like racist, sexist and homophobic lose all meaning by applying them to everything, but also ironically employing genuinely racist and sexist attitudes and policies against people.
From barring all white men from being allowed to audition for a character like the Doctor, to calling all white people racist, to accusing all men of being privileged etc.
And on top of that they have the cheek to compare themselves to people from the 60's a decade where combating racism wasn't things like being upset over a Halloween costume, or tweeting about how much you hate Trump to your friends who all think EXACTLY the same way, but instead actually fighting to have equal rights.
So yes I now have even greater respect for William Shatner from not only standing up to these bullies, but also disassociating the true progressives from the modern day posers.
Of course Shatner has since been accused now of being a racist, a sexist, homophobic etc. Fortunately however anyone who has followed his career knows that Shatner has done more for true social justice than posers like these people
Will ever do.