The Young Ones was one of the greatest British sitcoms of all time. Though only lasting two short series of 6 episodes, it helped launch the careers of Ade Edmondson and Rik Mayall, one of Britain's most beloved comedy double acts, and inspired generations of British comedians with its unique mix of physical, political, surrealist, and anarchic humour.
Whilst the show still has a very loyal following around the world, a few contemporary critics have accused The Young Ones of being somewhat dated, as many of the jokes in the series were topical. Ironically however I feel that if anything the Young Ones is more relevant now than it was in the 1980s.
The character of Rick, played by Rik Mayall (who also co-created and co-wrote the series) is the perfect representation for the modern Social Justice Warrior, or third wave feminist, or regressive leftist.
Rik Mayall was not right wing himself. In fact after The Young Ones, one of his biggest successes was The New Statesman, which marvellously skewered the Tory government. (Much like the Young Ones, though written about topical events at the time, sadly many of the jokes are still just as applicable today about the current Tory government.)
Rik Mayall was politically very left wing in many ways, but like a lot of people he could see that the left in general was being overtaken by tribalism and worst of all chancers and posers looking to make a name (and some money!) For themselves.
In my opinion there has been no greater satire of the regressive left than Rick and in this article we are going to explore how he captured their neurosis, hypocrisy and insincerity perfectly.
1/ He claims to be a Marxist, Socialist, and Communist without knowing anything about those ideologies
The character of Rick identified as a communist, a Leninist and an anarchist. Of course he knew next to nothing about any of those ideologies (for one thing Lenin absolutely despised anarchism.) Rick is in fact shown specifically to have fallen asleep in one episode whilst reading Das Kapital.
Rick also appears to be somewhat conservative at heart. Despite constantly going on about hating Thatcher, he says in the final episode that she "bloody well got the country back on its feet".
Many on the regressive left, including Antifa will identify as communists, socialists and even anarchists without really having any understanding of those ideologies.
They will praise the likes of Fidel Castro, Vladamir Lenin, even in some cases Joseph Stalin without any knowledge of the horrors these men inflicted on their people.
Nearly 20 percent of Millennials Think Stalin Was A Hero
Whenever you see a millennial "communist" arguing with a right winger like Sargon of Akkad, they will almost always be stumped when asked to justify the horrors of communism or even just explain what the ideology actually is.
Now don't get me wrong here, I am NOT a right winger like Sargon. In some ways I think that Sargon is as wrong as the leftists he argues with.
Sargon in my opinion is as tribal about capitalism as the leftists are about communism. Sargon's attempts to justify the horrors carried out by capitalism from the Vietnam war to the Iraq war, to the depression, to the first world war, to the Libyan crisis are exactly the same as the "communists" defence of the horrors carried out by communism "they just weren't doing it right."
Sargon is also willing to look the other way when it comes to fascists who support his ideology like Agusto Pinochet and Joseph McCarthy just like Antifa do for monsters like Stalin.
Personally I do support a number of socialist ideals such as the NHS, the welfare state and re-nationalised railways and gas and electricity, but I do not believe in handing over all power to the government. Independent companies who manufacture their own product should still be allowed to own it, and the media should remain independent.
I think unchecked capitalism and socialism lead to problems. Socialism will hand over too much power to the government leading to fascism, but capitalism does lead to corprotism. Sadly however neither side will admit their chosen ideology has any problems and so we're locked in an endless cycle of whataboutism.
Still at the very least Sargon and others like him do have a basic understanding of the ideology they claim to support, where as I find a lot of these modern SJWs literally don't even know anything about communism, or socialism or anarchism.
Basically its cooler and more trendy to be left wing, so they adopt the label of communist for their image.
Take for instance Caitlin Moran, a lefty journalist who identifies as a Marxist. Moran is a massive fan of Hillary Clinton.
Clinton was one of the most crooked, right wing, hawkish politicians in the entire history of US politics (and that's saying a lot.) Clinton voted in favour of the Iraq war, and for a war in Iran in 2005 (which even the most crooked war hawks in the Republican party were opposed too. Imagine how disasterous a war between the USA led by George W Bush and Iran would have been.)
Then there is the fact that Clinton played a key role in the Libyan crisis and the coup in Honduras, both of which destabilised those countries and plunged them into anarchy.  In the Libyan crisis' case Clinton's interference also led to the rise of ISIS and the current refugee crisis.
Hillary Clinton's Huge Libya Disaster
Africans Are Being Sold At Libyan Slave Markets
The Clinton foundation has also made a career out of robbing the poor and corporate fraud on a truly unprecedented scale.
How The Clinton Foundation Stole From The Poor
The idea that anyone on the left could support this woman is truly laughable.
What actual Socialists think of this war hawk.
Wading Through The Hillary Clinton Book
What a poser who clearly doesn't actually know anything about Clinton, but likes her for superficial reasons thinks of her.
You can see how based on this, Moran's left wing politics are as superficial as can be just like Ricks. She is clearly happy to overlook the fact that Clinton is a war monger, a wall street shill, and takes money from Saudi Arabia, a country that treats women as less than fully human, all because it suits her narcissistic desire to see herself represented.
2/ He's a soft, scared, middle class, privileged brat
The character of Rick loved to paint himself as a hard, working class, revolutionary. A catchphrase of his was "I'm so street and hard and cool".
The great irony was that Rick came from a very well off family, had never done a day's work in his life, was a total physical coward, and would probably own a publishing company by the age of 26 that his parents bought for him.
Rick was also shown to be a bully to Neil, the most vulnerable and defenceless member of the house, who he would push around and demean at every opportunity simply because it made him feel big.
The same is true of many of the regressive left. A good proportion of Antifa are upper middle class kids who want to look hard, so they'll attack single protesters, or speakers in large groups with baseball bats, or pepper spray women in the eyes!
Whenever they are faced with an actual confrontation however, many regressive leftists tend to fold rather quickly.
This video from Sargon does a brilliant job of breaking down how many SJWs are attracted to the movement more because it gives them a chance to shove others around and look big, just like Rick.
You only have to look at a lot of the targets these regressive lefties go after to see what cowards they are.
SJWs tend to either invent battles, or go after fights that have already been won. The gender wage gap for instance is a prime example of this. The gender wage gap does exist, but not for the reasons that feminists make out. It is illegal to pay women less for the same work as men, women end up making less than men because they have to take more time off to have children, or go into professions that pay less.
See here. The Gender Wage Gap And 5 Other Feminist Myths
Feminists however still insist on rallying against this because its an easy target. Similarly feminists go after the science fiction and fantasy genres because they are an easy target too.
Sci fi and fantasy, historically have always been among the most progressive genres. They have broken new ground in terms of representation in television series and films and comic books with things like Star Trek, Wonder Woman and the Rocky Horror Picture Show.
Why Star Trek Was So Important To MLK JR
The Transcendental Effect Of The Rocky Horror Picture Show
Yet despite all of this, these are the genres that SJWs target more than any other? That's simply because they are easy to bully. Sci fi and fantasy are looked down on by the mainstream media, even with the geek chic culture, people who take them too seriously (IE care about them in a non superficial way.) Are looked down on as sad nerds, losers and outcasts.
Not only will the media ALWAYS be on the side of the feminists against the sad, smelly basement dwellers, but many of the nerds themselves will not want to be seen as sad losers, so they will take the side of the feminists. Self loathing fanboyism is a terrible affliction that affects many franchises.
Feminists however will never go after genres that aren't so easy to bully like say Westerns in quite the same way. Westerns in contrast to Sci Fi and Fantasy haven't ever really given strong roles to women, black people or other minorities in quite the same way (of course that's because of the time they are set in.)
Still the SJWs don't target these genres? Not that I want them to of course, but hey why is it only Sci Fi they go after for supposedly having too many white, male heroes?
The reason for that is again because its harder to bully Westerns. Not only is the genre more respected, but Western fans, at least stereotypically are seen as big, rough, gun toting, good ol boys who are probably not going to be happy being told by some posh, privileged middle class woman like Claudia Boleyn or Anita Sarkeesian, that they can't enjoy their Lee Van Cleef or Clint Eastwood films anymore because they promote "toxic masculinity."
That's probably the reaction they'd get, so it makes sense that they go after, nerdy, shy, guys with low self esteem who try and cover up being nerdy. (Only to fail miserably.)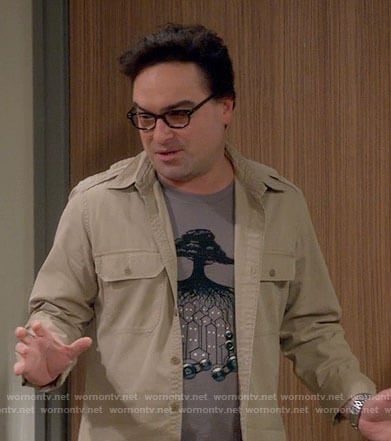 Nerds are to modern day SJWs what Neil was to Rick. The easy target they love pushing around to feel big.
3/ He throws words like racist, sexist, fascist and Nazi around at the drop of a hat
The character of Rik regularly refers to just about any figure of authority from police men, to bus drivers, to receptionists as Nazis or fascists. He also desperately tries to get offended on behalf of women and minorities over the most trivial bullshit too.
RICK: Absolutely pathetic! There's nothing on at all! Humph! Don't know why we bother to pay our license!
MIKE: We don't.
RICK: But, haven't we got a license?
MIKE: No.
RICK: But that makes me a criminal! [thinks about it] Right on! Yeah, this will shake them up at the Anarchists Society! Occupying the refectories! So what? This is the real stuff! I'm a fugitive! A desperado! I'm going to form a new union society, right? With me as president! 'People Who Don't Pay Their TV Licenses Against the Nazis!' [takes out pad and pen and starts writing] This is only the beginning! 
The left nowadays of course will regularly refer to anyone who disagrees with them as racists, sexists, Nazis, fascists and bigots.
In fact those terms have sadly been somewhat been devalued as a result of the SJWs throwing them around so often. Nazi has just become another generic insult. Left leaning, liberal people like Richard Dawkins, Sam Harris, and Maryam Namazie have been tarred as racists and sexists simply due to their criticisms of Islam and feminism.
Quite frankly its ridiculous to call even hard line right wingers like Sargon of Akkad, Paul Joseph Watson and Milo Yiannopoulis Nazis. The Nazis were a political spectrum on their own, completely separate from left or right. Neither thinking everything should be nationalised or privatised should lead you to thinking that entire sections of society should be exterminated.
Similarly having legitimate criticisms against ideologies like Islam and feminism doesn't mean you are bigoted against one group of people, never mind want to exterminate them!
Sadly however just as with Rick, modern day leftists will still tar anyone they don't like as a Nazi or a racist out of a combination of hysteria, and simply not having an argument, so they have to smear their opponents.
4/ He's a letch behind closed doors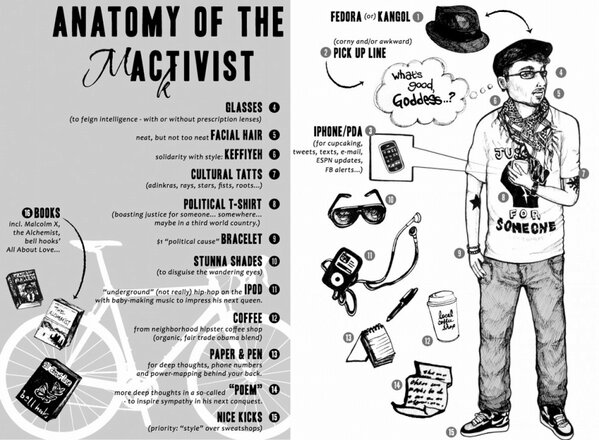 Rick is a hard lined feminist who often screams at the other housemates for their supposedly sexist attitudes.
Ironically however in secret Rick is a pervert who has a stash of porn magazines and is later shown to grope Jennifer Saunders character (Helen Mucas) and look down her top whilst she sleeps.
It may be a cliche that male feminists are only doing it for sex, but sadly in recent years it certainly has proven to be the case with many high profile male feminists.
A recent and hilarious example was Chris Hardwick. Hardwick is your typical woke, male feminist geek who slanders anyone that doesn't LOVE the new Ghostbusters movie, or the female Doctor Who as horrible, disgusting man baby sexists.
See for yourself.
Flash forward a few months however and guess who is the recipient of serious abuse allegations.
Chris Hardwick Abuse Allegations
Joss Whedon, the creator of Buffy the Vampire Slayer and another famous male feminist was also recently accused by his own wife, Kai Cole of cheating on her for a period of 15 years.
It is hilarious in hindsight when you think back to Joss Whedon slandering other nerds and geeks and film makers as sexists, such as when he called the director of Jurassic World a sexist, or when he also smeared those who were unhappy at a female Doctor Who as sexists, or when he compared Gamer Gators to the KKK! The entire time he was showing the one woman who supposedly mattered the most to him, no respect whatsoever.
Joss Whedon is a hypocrite preaching feminist ideals
Joss Whedon's wife accuses him of feminist hypocrisy
In addition to this many prominent anti gamer gators have similarly been revealed to be harassers themselves.
There are many other notable examples, but still you can definitely see a pattern emerging here.
A lot of these men use their position to get close to women and make themselves untouchable, but I feel there is also perhaps a genuine sense of guilt in their actions. They think (incorrectly of course) that by white knighting for women like Anita Sarkeesian they can perhaps make up for the appalling way they treat the other women in their life.
5/ The AWFUL Poetry
The character of Rick was an aspiring poet who used to refer to himself as "The People's Poet". All of his poems that were meant to be about topical issues that were affecting "the kids", but they ended up being insular, narcisstic, self indulgent pieces about his own petty little problems.
The character skewered the emerging punk poet scene at the time, but in the decades since he has become just as valid a parody of the emerging feminist poetry scene, which is similarly often hysterical, self indulgent and focused only on the problems of privileged middle class teenagers like mansplaining, or someone being rude to them on twitter.
See for yourself how there is really little difference between Rick's poetry and modern feminists.
I actually think Rik's were better.
6/ He is a tantrum throwing child
Whenever Rik didn't get his way he would scream and shout and stamp his foot like a little child. Mayall would even say that The Young Ones were conceived as a family, with Mike as the father, Neil as the put upon mother, and Rik and Vyv as the squabbling children.
Rik's childishness was further proof of his privileged upbringing. He was used to ALWAYS getting his way from his rich parents and couldn't take it out in the real world.
The same is of course true of many SJWs and feminists who similarly are spoiled brats used to always getting their on way from their parents, so when that doesn't happen they'll scream and throw Rick style tantrums in public.
7/ He wants to censor violent forms of entertainment
In the episode Flood, Rick tells Vyvian that he hates violent comic books, because all the characters do is fight all the time. Naturally Vyvian ridicules his argument.
Here is the exchange.
Rick: And what is it you're reading, Vyvyan? A bit of Pretarkian verse, is it? Little bit of French drama? 
Vyvyan: It's called, 'SS Death Camp Criminal Battalion go to Monte Casino for the Massacre'. 
Rick: [snatching comic] That's MY bloody comic! 
Vyvyan: Give it back!
Rick: No, Vyvyan! It's mine! [sits down and reads] Anyway, there's no point in reading comics, they're stupid! They treat the kids is if they we're…well, as if they were, you know, kids! Nothing but war in them! War! War! Bloody war! Why can't they have stories about love and peace? 
Vyvyan: Because it's sissy, you girly!
Rick: I'm not being girly, Vyvyan. Longing for a peaceful world is not being girly. 
Vyvyan: It is! It's being soppy and very very girly! 
Rick: I AM NOT BEING G…Look, this entire discussion is completely sexist anyway and I don't intend to continue it! [pause] But, for your information, it is not soppy of me to long for a world where a man will love his brother. 
Vyvyan: Poof! 
Rick: You're deliberately trying to provoke me, aren't you? 
Vyvyan: Yeah! 
Rick: For one man to love another, Vyvyan, is not poofy. It's actually very beautiful. It's only when they start touching each others bottoms that it gets poofy. 
Vyvyan: I'm going to tell Mike and Neil that you said you love men. Hey, Mike...
Rick: Look, all I said was this comic is a reactionary militaristic pamphlet! All they ever do is fight all the time! 
Vyvyan: And what's so wrong with that? I suppose you think we should all go around touching each others bottoms! 'Dan Dare touches The Mekon's bottom!' 'Exciting new story: Batman gooses the Joker's crack!' 
Rick: Alright! Alright! Alright! What's this? [makes weird hippie body movement] 
Vyvyan: Being poofy! 
Rick: No, that's peace! What's this? [places his bottom in VYVYAN's face] That's my bottom, isn't it? They're two completely different things!
This is pretty much EXACTLY what modern day SJWs like Jonathan McIntosh say about video games, comic books and tv shows that are too violent.
He argues that they encourage the children who enjoy them to be violent, he also argues that heroes like Spider-Man and Batman are reactionary and reinforce both white supremacy and toxic masculinity.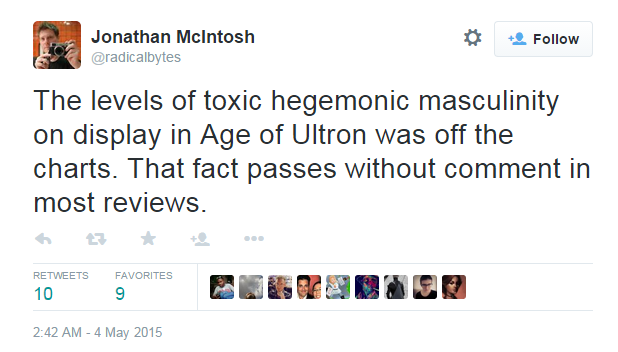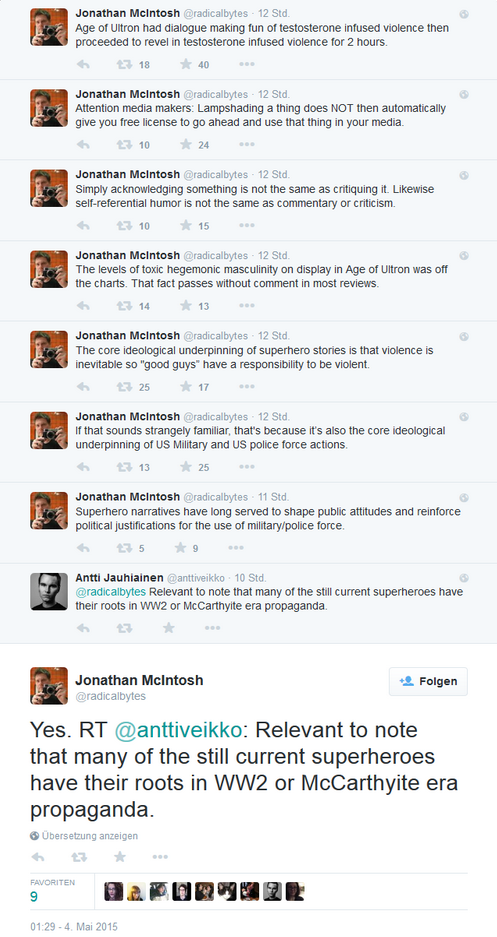 Of course any time a franchise panders to these types of people (which is fairly often) then it ends up becoming exactly how Vyvyan described.
Take a look at Doctor Who. Okay old ground for me, but its true. Doctor Who began to pander to SJWs from about 2014 onwards. They launched a vicious smear campaign against Steven Moffat, the then producer of Doctor Who. They slandered him as a sexist, homophobic, racist until he started to pander to them in various ways (which by sheer coincidence I'm sure coincided with a massive drop in Doctor Who's viewing figures.)
At any rate as soon as the show started to pander to these people then the Doctor went from a swash buckling, dashing hero, into a sissy hating himself because he is a man (well at that point).
These two quotes sum it all up.
Pre SJW Doctor
CLAIRE: What are you doing, John? 
ANDREWS: I'm going to trash this fellow within an inch of his life! 
(Jo takes the Doctor's jacket.)
ANDREWS: Still sticking to that stupid story? 
DOCTOR: I'm afraid so, old chap. 
ANDREWS: You'll regret it, sir. I think I ought to warn you, I used to box for my school. 
DOCTOR: And I think I ought to warn you that I took lessons from John L Sullivan himself. 
DALY: By Jiminy, the old fellow's got some pluck. 
DOCTOR: Queensbury rules?
ANDREWS: Naturally. 
This is John L Sullivan by the way. Badass of the Week: John L Sullivan
SJW Doctor
CYBER-BILL: Stand aside.
DOCTOR: Do as she says.
CYBER-BILL: Stand aside.
MASTER: Do as she says. Is the future going to be all girl?
DOCTOR: We can only hope. 
You can see how much as Rick wanted to make the violent comics Vyvyan loved toothless, the same thing has basically happened to Doctor Who.
Look at the characters relationships with his archenemies. In the original Doctor Who series, the Doctor regularly tried to kill his archenemies the Master and Davros, but in the post SJW era of the revival he is in love with the Master (who has now become a woman, called Missy, in a further effort to pander to feminists by setting a precedent for a female Doctor) and he also got all weepy with Davros in a recent two part story.
See for yourself.
Pre SJW Doctor Who
All they ever do is fight all the time. War, war, bloody war! Why can't they have stories about love and peace.
SJW Who
And what's so wrong with that? I suppose you think we should all go around touching each others bottoms! 'Dan Dare touches The Mekon's bottom!' 'Exciting new story: Batman gooses the Joker's crack!' 
8/ They are desperate to be seen as weird and edgy
Rick constantly tries to show off how "nutty", and eccentric he is to impress everyone around him. Sadly however since he has virtually no personality then his attempts to be edgy are always pedestrian and cringey.
RICK: Oh, hello! [runs over] Pleased to meet you! Sorry, so many essays to write! [laughs, snorts] I'm surprised my arms aren't falling off! Perhaps they are, look out, bonk! [flails his arms wildly] You'll have to watch out for me because I'm a bit nutty. Aren't I, everybody?! A bit nutty?
[sticks out his tongue and blows a raspberry]
RICK: Last night, right, we were all watching the television, and it was a programme
we wanted to watch, you know, and then we were just watching it, and right in the middle of it, I just got up and turned it off. Mad!
I don't care what I do, you know. Unless it's work or something. You know, last Wednesday we stayed up until one o'clock in the morning!
MIKE: Why are you smashing up saucers, Rick? Your prints on 'em? 
RICK: I suppose you think it's pretty weird, don't you Mike? Well. You'd be right. 'Cause THAT'S the kind of guy I am, right? WEIRD. Which is why I go over people's heads! A bit like an aeroplane! You think I'm an aeroplane, don't you, Mike? Well, I'm not.
MIKE: I don't think you're an aeroplane, Rick.
RICK: Sycophant!
Many modern day SJWs similarly want to appear edgy in mundane or boring ways like dying their hair pink, growing arm pit hair if they are women or saying that they love Satan.
Jump to 5 minutes 26 seconds in to see what is essentially a woman acting exactly like Rick trying to be edgy by declaring that she has armpit hair to the rest of the world.
9/ He claims that he is an anarchist, yet always goes to authority whenever anything goes wrong
Rick always goes on about how anti establishment he is,  and how the police are fascists and pigs. Yet at the first sign of trouble he will instantly go to the police or any figure of authority.
| | |
| --- | --- |
| Neil: | Oh well. well, we'll all probably get drowned or eaten by octopuses, then. |
| Rick: | WHAT? Phone the police! |
| Neil: | But they're fascists! |
| Rick: | Well, never mind about that now! Telephone, Vyvyan! |
RICK: It's stealing, Vyvyan! It's common stealing! And if you ever touch it again, EVER, I'm going to the police. I really will! I will go to the police!
VYVYAN: Why aren't you dead?
RICK: I'm not prepared to discuss it with you, Vyvyan. You will be hearing from my solicitors in the morning. I'm going to write to my MP.
[takes out paper and pencil]
NEIL: You haven't got an MP, Rick. You're an anarchist.
RICK: Oh. Well, then I shall write to the lead singer of Echo and the Bunnymen!
The same is true of many modern day feminists and social justice warriors who despite being communists, anarchists and anti establishment, will still instantly go to someone they disagree with's employer to get them fired, or go to the police to get them arrested! I'm not joking.
See here.
Once again this ties rather nicely into the fact that Rick and others like him are such spoiled brats, always used to getting someone else to fix things for them.
10/ His hatred of Thatcher is based on nothing
Now don't get me wrong here, I'm not saying that there weren't plenty of reasons to hate Thatcher.
In my opinion its a toss up between Thatcher and Tony Blair for who is the worst post war Prime Minister of all time.
Still Rick is shown to not really have a reason to hate Thatcher, simply because he is completely A political. Its all about image with him, so he simply hates Thatcher to fit in.
We see a similar set up with feminists and Donald Trump today. Once again there are many reasons one would hate the Donald, but certainly a good portion of these virtue signalling feminists and SJWs only hate him because its trendy.
The most recent Trump protest was perhaps the finest example of this. So many more feminists came to protest Trump visiting than when the Prince of Saudi Arabia came to visit the UK earlier this year.
Now I'm sure that some of the same people who did protest Trump's visit also protested that for the Prince of Saudi Arabia, but the overwhelming majority did not.
Over 4 times as many people came to protest Trump than the Prince of Saudi Arabia. To me this showed how the Trump protest wasn't about standing up for women's rights, as ultimately these people don't mind when someone who is the head of country that treats women as less than fully human turns up. The Prince of Saudi Arabia is simply not as trendy to hate as Trump, so the posers don't bother to protest him.
Conclusion
As you can see Rick's successors have sadly turned left wing politics into a joke. Its time that people who cared about genuine left wing ideals did all they could to separate themselves from the Rick's of this world.
Its a shame in contrast to Mayall, who called out those on both the left and the right, modern, "edgy" comedians like Frankie Boyle are utterly terrified of saying anything against those on the left. They know their place. Whilst SJW is an ironic term, many of them stupidly take it as a compliment, as they think its some racist or homophobe that hates social justice.
Comparing them to Rick in my opinion is much better.
Thanks for reading.