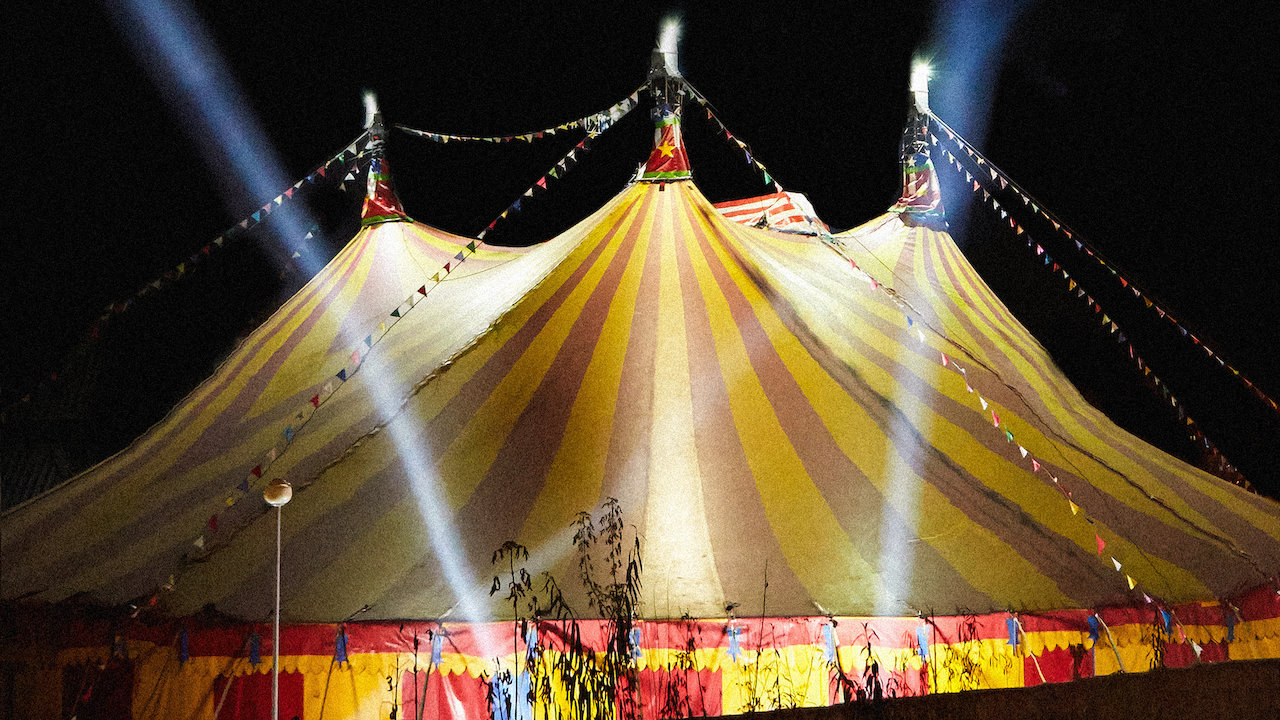 Florence awoke in a smelly, dark, wet cellar behind several bars.
On the outside of her cage she could see blood stained all over the floor and the furniture, which consisted of a few chairs and a table. She tried to break the bars with her Vampire strength, but they were too strong for her.
Florence noticed a young girl, crying and hiding at the far end of the cage. As she went to comfort her she could see the girl, who was no older than 14, was covered in cuts and bruises.
"There were 12 of us." She whimpered to Florence. "I've been here for 2 weeks, and each time they take one us outside, I can hear their screaming above. It lasts for hours each time. The last time was different however. They took one of us, a young boy, and they."
"They what." Florence said as she tried to comfort the poor girl.
"They read from some book, and they, they turned him into a monster. He tore another three of us apart. They've left me here for 2 days. I don't know when they're coming for me but."
"Don't worry, I'll protect you." Florence said as she hugged the poor girl.
"Oh really? You couldn't even protect yourself. Would you be in our cage otherwise?"
It was the Alpha Vampire that Florence had fought in the hospital. Some parts of its face were still badly burned, and once again Florence felt there was a depressing sense of familiarity to the beasts face.
Florence pushed the girl behind her and stood her ground against the monster.
"I'm not going to beg, as I know that'll only make it worse, can I just ask you who were before you became this?"
The monster smiled. "I believe you once knew me as the butcher of Ivory."
"Malstrom" Florence said.
"I don't understand? They hanged you years ago?"
"The book can also bring back the dead it seems. They're picking the best and brightest for their new army."
"Even by their standards I wouldn't have thought they'd want you. Surely even Vampires know you're scum."
"They don't judge me unlike you bitches. You all thought I killed that girl, you lot threw the noose around my neck without ever even knowing the truth."
"What do you mean."
"That girl they hung me for. I didn't do it."
"You're lying"
"Why would I lie now? Its not like you or anyone else can hurt me. I can take what I want, but I assure you, I did not kill that girl."
Florence thought for a minute. Was it possible this monster recognised her too, and was just playing with her?
"So what you're saying you were just some poor misunderstood guy that we all formed a lynch mob against. Blamed for killing his parents, his wife and his patients?"
"Oh no I killed all of them" Malstrom said in an extremely casual way. "But the last one I was innocent of! Its not fair. I was hung for something I didn't even commit."
"Well" Florence continued. "If it makes you feel any better I'll make you pay for the things you have actually done."
The Vampire smiled. "Oh really? Tell you what, if you can beat me here, I'll let the little brat go."
The young girl clung to Florence.
"Please he's the worst of them all." The girl said as she held onto the Siren.
Florence wasn't sure what to do. She knew she couldn't take him in a fair fight. Still maybe she could trick the Demon and buy the girl enough time to get free.
The giant Vampire opened the door with its tentacles and then battered Florence to the back of the cage as she tried to fight, before wrapping its tentacle around her feet and pulling her out of the cage. The monster threw Florence to the other side of the room and then punched her into a wall. When it tried to make another move against her however, Florence jumped over its back and grabbed the table. With her super strength she managed to life it, and smashed it over the Alpha's head, before using one of the planks from the broken table, to repeatedly hit the Alpha over the head again and again.
"Run now" Florence shouted to the young girl, who quickly obliged. The Alpha however batted Florence away, and wrapped its tentacle around the young girl and lifted her into the air.
"You lose I'm afraid." The monster taunted. Florence however jumped onto the Alpha's back and and dug her claws into the Alphas burnt flesh. It hurt both of them as its boiling blood burnt Florence's fingers.
The Alpha however simply swung the young girl back into Florence knocking her off. It then grabbed Florence and threw her back into the cage and locked the door.
Florence tried to pull the bars down, but it was no use. She was forced to watch as the Alpha grabbed the young girl and started to slowly crush her to death.
You'll be safer in here. Carlene said to Ashlei who didn't respond at all. Carlene had taken Ashlei back to the Circus. It's magics were a lot more powerful than those that protected Carlene's mansion and could prevent any Vampire or anyone else from entering. With her brother on the loose Carlene felt that the two children were better off here. Carlene was also worried what the angry villagers would do after all of the commotion involving Brian.
Daniel who was still out cold, was secured in Denika's magical chains at the corner. They still didn't know if he was going to change into a Vampire or not, so they had to be sure. The Strange Boy was also left behind to protect Ashlei if Daniel did change, and somehow managed to escape the chains.
Carlene tried to comfort Ashlei assuring her that they wouldn't be long in dealing with the Vampires (even if she didn't believe it.)
Ashlei however still didn't respond. Carlene didn't know if the young girl was going to stay put or not, but sadly she didn't have time to focus on Ashlei. The Vampires needed to be stopped.
Outside Denika had created a magic bubble that would encase all of the Circus Folk (except for the Strange Boy who was left on guard) and allow them to travel much quicker to Lourouse. They reached the village in about 5 mins thanks to Denika's magics, which would have taken 4 times longer otherwise. They were cutting it fine to the time limit the Vampires had given them, but Denika had needed all the time she could to try and master the magics in Carlene's beehive.
When they arrived at the village it was seemingly deserted. The village stunk so badly they could smell it from miles away. It was the stench of the Vampires themselves. Most Vampire breeds had an absolutely foul stench, so when that many congregated together, it was almost toxic.
Many of the buildings had crumbled to bits, or at least looked worn down, though there was still a gigantic church right in the middle of the wretched place that looked more or less intact.
Denika took the Circus folk down into a square right in the middle of the town.
The Circus Master stood in front of the others calling out to the Vampires. A few minutes passed before Vampires from various different breeds started to emerge from all the corners of the square.
There were at least 6 different types of Vampires, all utterly grotesque. They included three blue skinned Vampires, with plated skin, green eyes and no hair. 2 yellow skinned Vampires with long flowing red hair and red eyes. Two Vampires with massive bat like wings and hideous snout like faces and long flowing black hair. 3 Vampires each with eight tentacles, flailing around and large rock like heads. And finally a woman who had a greenish hue to her skin, massive blue hair, and large claws. She looked the most human of all the monsters there, but there was something cruel about her that went beyond even being a Vampire.
The monsters all had blood dripping from their fangs. They hissed and snarled at the Circus folk who huddled together in fear except for the Circus Master who stood his ground.
"Even just looking at you is enough to make me sick Vandal." Said a strange figure who emerged from behind the two winged Vampires.
Unlike all the other Vampires he looked almost completely human, though he was still incredibly thin and pale. Carlene instantly recognised him as Marcozia.
"I still can't believe its true" Carlene said.
"Well if it isn't the traitor." Marcozia sneered.
"Oh so suddenly you're a born again Vampire? Unbelievable. I remember when you used to give me shit for being a Vampire. It was all, a Vampire can never change, I'll always be a monster no matter what. Yet now I'm a traitor?"
Marcozia laughed. "Well you see that's the thing, Vampires, hunters, Vandals, Demons. They're all just trying to survive. They'll delude themselves into thinking that they have the moral high ground, but ultimately everyone just roots for the team they are a part of. When I was a human, I was on their side and wanted to kill every Vampire. Now that I'm a Vampire? I'll be just as dogmatic against my former team. You on the other hand Carlene? You're an idiot. You still cling to the memory of what you once were and fight for a side that wants to kill you. I've never realised just how sad you were until now."
The Vampires words stung Carlene. She didn't doubt that what she was doing was right, but Marcozia's words did remind her of how no matter what good deeds she did the overwhelming majority of people would only ever see her as a Vampire.
Marcozia continued. "You do know that I'm not going to release your friend, right?"
"A Vampire that doesn't keep his word? Shocking!" Keptis said.
The Vampires moved closer to the Circus folk, whilst the Circus Master still stood his ground.
"I admire your courage. I didn't think either Vampires or Vandals were capable of it." Marcozia said.
The Circus Master responded by bowing in a mocking fashion and dropping his large top hat on the ground, upside down. Two of the yellow Vampires looked into the hat out of curiosity and saw nothing. Suddenly however the Circus Master reached into it and pulled out two silver blades, both coated in holy water and started slashing at the two Vampires. Their wounds both sizzled, though he wasn't sure if it was the holy water or the silver that had hurt them.
The Circus Master quickly grabbed the hat and started throwing weapons to the other Circus Folk, including Keptis' flaming chainsaw. Keptis managed to slice the head off of one of the blue Vampires as it attacked him, whilst Denika blasted the dark skinned Vampire several feet backwards with her magic. Carlene meanwhile had been given an axe which she used to hack at the Vampires. She cut one of the winged beasts legs off and slice the arm off of the blue haired Vampire.
Unfortunately however the yellow skinned Vampires flame red hair was able to stretch out and grab both the Circus Master and the Carlene from behind, enveloping them both.
The hair was so strong that neither could break free. Denika who was hovering about 20 feet in the air above blasted the yellow Vampire that had grabbed Carlene and the Circus Master. Unfortunately another yellow Vampire used its hair to smack Denika in the chest, sending her flying across the village. The Circus Master however managed to catch the Yellow Vampire off guard and stabbed it through the heart with a copper knife, killing it instantly. The Circus Master knew this breed in the far future and so he knew its weaknesses.
The other Yellow Vampire tried to grab The Circus Master, but Carlene tackled it from behind. Before the Vampire could defend itself, The Circus Master tossed one his knives to Carlene who stabbed it through the Vampires heart.
Keptis meanwhile fought off the tentacled Vampires. He sliced off a few of the monsters tentacles with his flaming saw, but there were so many arms attacking him, that they eventually managed to knock the saw out of Keptis' hand. One of the Vampires then wrapped its tentacles around Keptis' throat and brought him to his knees. The monster prepared to strike another tentacle through the last Martian's chest, but the Circus Master stabbed one of his silver blades into the monsters tentacle, and then grabbed Keptis, though not before Keptis was able to pick up his flaming saw.
The Circus Master jumped over twenty feet in the air onto one of the few remaining buildings, Carlene quickly followed him.
"We need to find Denika and Florence now" The Circus Master said.
Ashlei hadn't moved for ages. She couldn't muster up the energy for anything. Not that there was anything to do mind you. Daniel hadn't woken up. He occasionally groaned, but he was still completely out of it.
Suddenly the torturous silence was interrupted by an all too familiar voice. It was Brian.
"Ashlei, Ashlei please, help me. That thing its gone now, I don't know for how long, please!"
To Be Continued