Fan drawing by user Gaugex from Deviant Art. 
Over the years Doctor Who has been compared to many things. Some say its more like a fairy tale, others see it as being like Sherlock Holmes but personally I'd say that first and foremost Doctor Who is a comic book.
It has all of the same tropes and features of a comic book and over the years comic books as a whole have been among the biggest and most consistent influences on Doctor Who.
In this article I am going to run through all of the ways in which Doctor Who is like a comic book, the massive overlap between Doctor Who and comic book fans, the ways they have inspired one another, and why they appeal to people in similar ways.
Similarities Between Doctor Who And Comic Books
Fan drawing. Sadly I don't know who it was that drew this originally, but whoever it was well done. It's brilliant!
Now when I say comic books I primarily mean American comic books, specifically DC and Marvel, though I will also be looking at some British comic books too such as Dan Dare.
Overall the comic book style for want of a better term that Doctor Who follows was one that was really popularised by American comic books.
Comic books are not a genre. They are a medium, but I do think at the same time there are some tropes that are more common at least to comic book stories than those from other mediums.
Comic books are a visual medium and unlike film, television or theatre there are really no limits to their visuals except for the artists imagination. As a result everything in them tends to be a bit more exaggerated simply because it can. As a form of art, comic book illustrations almost lean towards caricature.
Male heroes like Batman and Superman for instance will often have the most square jaws, big bulging muscles, and ripped physique, whilst the female characters will similarly all be striking, statuesque beauties.
Its not just the drawings that are over the top however. The stories are accordingly more extreme than in other mediums as again there are no limits.
Characters origin stories tend to be more melodramatic in comic books. Heroes can start from watching their parents die, to having their entire home planet being destroyed, to being the reason their uncle died tragically, to being a hero sculpted by the Gods themselves.
Similarly the hero is often a superhero. Wonder Woman can't just be someone who is brave and resourceful. She has to be someone who is stronger, faster, and better at everything than every person around her. Even Batman a character who doesn't have any actual super powers is still a top athlete, a scientific genius and the worlds greatest detective rolled into one.
Comic books also often have to develop a rogues gallery for a particular hero for a number of reasons.
First and foremost every hero needs a memorable villain. However in other mediums having a full blown rogues gallery can actually be quite detrimental.
Take for instance a book series like Sherlock Holmes or Harry Potter. There are only 7 books in the Harry Potter and so you can't really afford therefore to bring a villain back simply because you or even the audience want to see them again. Unless they are important to the story, the villain has to stay gone as you have so much less time to just mess about with supporting characters.
This is why Sherlock Holmes' two most famous villains, Moriarty and Irene Adler were only used fleetingly in the original Sherlock Holmes series by Sir Arthur Conan Doyle, with Moriarty being in a grand total of two Doyle stories, and Irene Adler only being in one.
Similarly in a film series there is only a limited amount of time to tell the stories you want, so again there isn't really space to bring a villain back unless you need too.
Look at James Bond. James Bond's villains are as iconic as any other heroes. Everyone knows Oddjob, Blofeld, Jaws and Nik Nak. However only two of James Bonds many colourful enemies have actually appeared in more than one film. Blofeld and Jaws.
In a television series meanwhile there is, depending on the show often more time to reuse old characters, hence why television is the medium that features rogues galleries the most often after comic books.
Still even then tv shows can be limited in what villains they can bring back in a number of ways. For instance if the actor or actress who played the villain is unavailable or even if they have just grown tired of the role then their character can not return.
Similarly there is a limited amount of time to tell a story even on tv, as most television series have an ending in sight, and as most television series tend to focus on story arcs these days, then there is even less time to fit a villain or character in unless they are vital.
In comic books however the story goes on for decades with no end in sight (if its a big character like Batman, Superman, Spider-Man, Wonder Woman or even Dan Dare.)
Added to that they often churn out stories on a far more regular basis. In some instances such as with the Eagle or the old Batman newspaper strips there could be a new story every week!
So naturally not only is there more time to explore an individual villains story, but a recurring and popular villain can also be useful if the writers are on a tight schedule and need something to spice up a particular story.
Also recurring villains and characters can help to give a comic some much needed familiarity.
If a comic is a big mega hit like Batman, Superman or even Dan Dare then it could go on for centuries! The same is not true for any other form of entertainment.
Sure someone else might come along and write their own Sherlock Holmes sequel novel after Sir Arthur Conan Doyle's death, and similarly a popular character that appears in dozens of films like James Bond can still continue to appear even after one particular film series has ended, via a reboot. But its not the same.
All of the unofficial sequel novels to Holmes are their own separate stories. There's not one definitive canon for Sherlock Holmes after Sir Arthur Conan Doyle's books come to an end. Similarly all of the different film and tv versions of the great detective, from Basil Rathbone to Jeremy Brett are not connected to each other either. Indeed there are often multiple versions of Holmes on tv, film and the stage at any given time.
With a comic character like say Spider-Man however, it is actually the same story now that it was in the 1960's. Sure there have been other versions of Spider-Man across other mediums, but the original versions official story is still going strong in the Amazing Spider-Man series.
This can end up being a double edged sword for the publishers when Spider-Man ultimately has to change.
All characters have to change to some extent, as the world changes around them, but because Spider-Man is the same character, then this can lead to fans having more of a problem with major changes. If Jeremy Brett's Sherlock Holmes is nothing like Basil Rathbone's or even the original novels meanwhile, fans or those versions won't care as its ultimately not the same character they love.
Thus iconic recurring villains and other characters in general, as well even iconic symbols, gadgets and locations such as the Fortress of Solitude, the Batcave, the Batmobile, the Utility Belt, can often help to reassure longtime readers that its the same character and story that they are following, no matter how much it may have changed in the intervening years.
Now Doctor Who despite being a tv show shares many strong similarities to comic books.
To start with its very over the top. Even more so than most other science fiction television series.
Lets compare it to Star Trek. The aliens in Star Trek tend to be a bit more toned down, a bit more human, and more relatable.
The aliens in Doctor Who however are the most over the top creatures you can imagine. Look at the Daleks, the main monsters in Doctor Who.
The Daleks are slimy little mutants, housed in ridiculous looking robots, with electronic, screaming voices. They want to kill every single other life form in the entire universe as they were conditioned to by the deranged scientist Davros. They are utterly devoid of any compassion, pity, or remorse and will gun people down in cold blood without a seconds thought.
Similarly look at the Cybermen compared to the Borg. Though both are similar ideas, (cybernetic races who convert organic life forms into members of their own kind.) The Cybermen are somewhat more cartoony in that they have no physical human features left and are just gigantic, towering robots.
Similarly the TARDIS is also far more over the top than say the USS Enterprise or the Millennium Falcon. It has a surrealist twist to it the way its bigger on the inside than the outside.
Even the Doctor himself is also something of super hero. His intelligence is far beyond that of almost any other character you can name.
The Doctor is someone who can speak over 1 billion languages, can rewire the most complex alien equipment in seconds, and can pilot a machine that is beyond even the most intelligent person's comprehension.
Compare him to Spock who is still intelligent, but less cartoonish in that he doesn't know absolutely everything.
However perhaps the greatest similarity between Doctor Who and comic books is that Doctor Who can run for decades.
There are two reasons for this. First of all the Doctors machine the TARDIS can travel anywhere in time and space allowing there to be no limit to the types of adventures the Doctor can go on.
Second the Doctor can change his appearance, allowing a different actor to play him.
The Doctor we are watching in 2017 as different as he may seem on the surface, is the same character people were watching in 1963, just as its the same Spider-Man we are reading now that people were reading in 1962.
As a result of this Doctor Who just like any long running comic book series has a large rogues gallery and iconic cast of supporting characters and objects like the TARDIS, sonic screwdriver etc all of which help to reassure people that its the same show.
Also what's interesting is that the villains in Doctor Who can go on and on for decades too just like a comic book villain. None of the iconic Doctor Who villains are linked to any one actor. The Daleks, the Cybermen, the Ice Warriors are all played by multiple actors, but even the individual villains like the Master, Davros, and the Rani can all be played by different actors too. The Master and the Rani are time lords so they can simply regenerate into a different actor, whilst Davros is a monster whose face is covered by a mask, and so therefore a different actor can simply wear the mask and become Davros.
The Doctors rogues gallery is so large that just as with many comic book heroes like Batman, Superman, Spider-Man, The Flash and Wonder Woman its hard to decide who the Doctors archenemy actually is.
You wont get this with literary heroes like Sherlock Holmes and Harry Potter. The original authors won't have time to accumulate as many villains over just a few stories, so there will often only be one villain that will stand out as the heroes main enemy like Voldemort or Moriarty.
Any sequel novel by another writer or film or tv adaptation will either have to feature this villain, or at least pay lip service to them. Even if they do decide to introduce a new villain, then that character will never usurp the classic archenemy of the hero. No enemy of Sherlock Holmes introduced in the non Sir Arthur Conan Doyle stories has rivalled Moriarty, whilst when Harry Potter falls into public domain decades from now and other writers take a crack at it. Its doubtful that anyone will come up with an archenemy for Harry that could possibly rival Voldemort.
Similarly with tv heroes as they have a shorter run and are not always able to bring any villain they want back, then they tend to settle on one villain as the main one, or might not even establish an archenemy for the hero. Buffy for instance though having a large and exciting collection of villains never really had any kind of archenemy.
With the Doctor, Batman, Superman, and Spider-Man however there are so many to choose from that I'd say it goes like this.
They all had one villain who was introduced early in their careers who became their archenemy, simply because that villain was so beloved by the public.
The Joker in Batman's case, Lex Luthor in Superman's, The Green Goblin in Spider-Mans and of course the Daleks in the Doctors. None of these villains are what you would call traditional archenemies. For instance Bats and Clowns aren't a thing people have tended to put together, neither are Spiders and Goblins, but it doesn't matter because the likes of the Joker and the Green Goblin and the Daleks are such brilliant characters.
Often these villains due to their popularity will be used in the biggest story lines and be made responsible for the greatest tragedies in the heroes life which just further cements their archenemy status.
For instance in the comics the Joker killed the second Robin Jason Todd and crippled Barbara Gordon. In the 1989 movie meanwhile the villain was also revealed to be responsible for the death of Bruce Wayne's parents, whilst in The Dark Knight, the Ledger Joker not only created Two Face, but murdered the love of Bruce Wayne's life Rachel Dawes.
The many ways in which the Joker has made Batman more broody over the decades and mediums.
The Green Goblin meanwhile famously murdered Spider-Man's girlfriend, Gwen Stacy.
Finally the Daleks in New Who are responsible for just about every tragedy in the Doctors life. They were responsible for the destruction of his home planet Gallifrey (before it was undone in the 50th.) They were also responsible for the departure of his companions Rose and Donna Noble under tragic circumstances, and they have also been responsible for the deaths of more Doctors than any other villain.
Naturally all of these villains become the most important to the hero as well as the audience.
At the same time however there was another villain in all cases introduced fairly early on who many fans considered to be the heroes archenemy, and who was a villain that the general public would recognise just as much, but was never really made as prominent in the same way.
In Batman's case this is the Penguin, in Superman's case this is Brainiac, in Spider-Man's this is Doc Ock, in the Doctors this is the Cybermen.
Sometimes this villain can be made more prominent in later adaptations. Maybe the author of that particular adaptation will prefer them and be sick of the likes of the Joker, the Goblin and the Daleks constantly hogging the spotlight, or maybe the producer might want a change, but still want a villain that the public will recognise to sell their version.
Examples of this include the tv series Gotham, which makes the Penguin the main character, the Peter Capaldi era of Doctor Who which gives the Cybermen far greater prominence than any other era of New Who (and even has the monsters be the enemy who finally kills the Doctor though not for good obviously.) And finally Spider-Man the animated series which makes Doc Ock Spidey's most recurring foe.
Many years later however there is yet another contender for the archenemy title. This character in all three cases is more of a classical nemesis to the hero, IE someone who is like them, but has obviously gone down a very different path.
In Batman's case this is Ra's Al Ghul. Ghul just like Batman wants to rid the world of crime and corruption, but he intends to do that by destroying all of civilisation and then rebuilding it from the ground up. Ghul is also a great detective, scientist and highly skilled fighter like Batman too.
In Superman's case it is Darkseid. Darkseid is like Superman, a God like alien with nearly limitless power, but where as Superman believes in truth and justice, Darkseid seeks to cause chaos and misery across the entire universe as he feeds on fear.
In Spider-Man's case this is Venom. Venom has all of the same powers and abilities as Spider-Man, and he even believes in protecting innocents too. Ultimately however Venom is consumed with hatred and is prepared to sacrifice innocents for his own selfish desires.
In the Doctors case this is the Master. The Master just like the Doctor is a time lord. He too defied the society of the Time Lords, but where as the Doctor is compassionate and uses his great intellect to help those in need, the Master is a power hungry sociopath.
These villains usually physically resembles an evil version of the main hero too. Ra's Al Ghul has a long flowing cape like Batman, the Master has his own TARDIS like the Doctor, except it is black on the inside (whilst the Doctors was always white in Classic Who) whilst Venom resembles an evil Spider-Man.
As this villain is like a dark mirror of the main hero, they are often the most dangerous, as they can do anything they can only better!
Finally all 4 heroes have another archenemy who emerged later and became so prominent simply because they were the most evil and destructive of all the heroes enemies.
In Batman's case this is Bane. Bane fucked with Batman more than any other villain. He figured out his identity on his own, easily pummelled the caped crusader and eventually put him in a wheelchair.
In Superman's case this is Doomsday a villain who managed to actually kill the man of steel (he got better.)
In Spider-Man's this is Carnage, Venom's twisted son who actually forced Spider-Man and Venom to team up to bring him down.
Finally in the Doctors case this would be Davros, the evil creator of the Daleks who is more twisted than even the Master and in the 2008 story The Stolen Earth/Journey's End actually tried to destroy every universe.
In addition to this different enemies are more prominent during certain periods of Doctor Who and long running comic book characters like Batman and Spider-Man's existence too.
Take Batman for instance. In the 30s-40s The Joker and the Penquin are unquestionably Batman's main enemies. In the 70s however it is Ra's Al Ghul. In the 90s however its Bane. Also in terms of adaptations I see it like this.
In the Adam West series its the Joker, Penguin, The Riddler and Catwoman who are Batman's most prominent villains. Of all 4 the Penguin and Catwoman are actually the two most prominent. The Penguin appears the most, whilst Catwoman is the most famous from the series and has the greater personal link with Batman.
In the DCAU the Joker and Ra's Al Ghul are Batman's two archenemies (the Joker is more prominent,, recurring and personal, but Ghul is more dangerous). Catwoman and The Penguin in contrast to Adam West aren't really important at all in this continuity, whilst the Riddler is a very, very minor villain. Two Face is also more prominent in Batman TAS, though not in other DCAU adaptations
In the Burton film series its once again the Joker who is Batman's archenemy (as he murdered his parents.)
In the Nolan film series it is Ra's Al Ghul, Bane and The Joker. Ghul is the grand mastermind behind the League of Assassins and responsible for the creation of most of the other villains in the series like the Scarecrow, Talia and Bane. The Joker however inflicts the worst tragedy on Batman, the murder of Rachel, whilst Bane is the most dangerous and much like his comic book counterpart brings the caped crusader to his knees.
Finally in Gotham the Penguin, the Riddler and Doctor Hugo Strange are the most prominent villains.
In The Flash's case meanwhile in the 1990s series The Trickster played by Mark Hamill was The Flash's archenemy, whilst in the DCAU it was Gorilla Grodd and Shade. Finally in the 2010s series, the Flash's archenemy is Eobard Thawne.
With Wonder Woman on the other hand Ares was her archenemy during the 30s and the 40s but he was later replaced during the 60s by Cheetah, who was in turn replaced by Circe in the 90s.
With Spider-Man, the Green Goblin and Doc Ock were the wall crawlers main enemies in the 60s, whilst in the 70s it was the Kingpin, and in the 80s through to the 90s it was Venom and later Carnage.
In Doctor Who's case it seems to be a different archenemy for every Doctor.
With the First Doctor its the Daleks, who are the most recurring enemies in his era, cause the deaths of two of his companions and also cause him to develop as a character more than any other enemy.
With the Second Doctor it is the Cybermen (who appeared the most) and the Great Intelligence.
With the Third Doctor it is the Master and the Daleks, who are his two most recurring enemies and just about the only villains the normally extremely moral Third Doctor takes a pleasure in killing (or attempting to kill!)
With the Fourth Doctor meanwhile it is Davros, The Black Guardian (who is the main villain of the Key to Time season) and the Master who finally kills him off.
With the Fifth Doctor it is the Cybermen (who caused the death of his companion Adric), the Master (his most recurring enemy) and the Black Guardian once again.
With the Sixth Doctor on television it was the Valeyard and Sil, whilst in audios it is Davros.
With the Seventh it is Fenric on tv and the Timewyrm in spin off material.
With the Eighth Doctor it is the Master and the Daleks.
War its the Daleks and Rassilon.
With the Ninth Doctor its the Daleks.
With the Tenth it is the Daleks and the Harold Saxon Master.
With the Eleventh Doctor it is the Daleks (who are his most recurring enemies, cause his regeneration, and are technically responsible for everything that happened to him as they are the ones who kick off the war on Trenzalore), the Silence, the Weeping Angels (who cost him Amy and Rory) and The Great Intelligence.
Finally with the Twelfth Doctor it is the Cybermen ( who are among his most recurring enemies both on tv and in spin off material, convert his companion Bill, and ultimately cause his death) Missy and Rassilon.
Personally I think its more interesting to give the hero multiple choices for their archenemy.
It can certainly allow for more variation among different adaptations. With Sherlock Holmes for instance you always know that Moriarty is going to be Holmes main villain.. Unless its just a one off version of course, but if its a film or tv series, then you know Moriarty is going to have be the main villain. Sure they can change Moriarty about a bit, but ultimately you know no villain will truly match him in terms of importance.
With comic book heroes and Doctor Who however its interesting watching how in some versions a villain can be the main rival of the hero, whilst in others they might not even appear! You absolutely can not predict which of a hero like Batman, The Flash or the Doctors iconic villains, never mind archenemies is going to be the most important in a particular adaptation or era.
The Penguin for instance is the main character overall almost in Gotham, yet he isn't even in the Nolan movies.
Similarly look at the Flash. Eobard Thawne, the Flash's archenemy in the 2010s series is not in either the DCAU or the 90s Flash series, whilst the Trickster his archfoe in the 90s series is a completely harmless frenemy in the DCAU and a very minor villain in the 2010's series.
You couldn't get two more different villains than Thawne or the Trickster, and you can see how as a result both versions of the Flash couldn't be more different either. 
Finally in Doctor Who itself when you watch the Second Doctors era then the Cybermen are the biggest threat to the Doctor, whilst if you watch the Third Doctors era they don't even appear!
Similarly when you watch the William Hartnell era its hard to imagine the Doctor having any major enemy other than the Daleks, but when you watch the Davison era then they are nothing. They only appear in one story right at the very end and have 0 impact on any major story lines involving 5.
With all of this in mind, I don't think you can say that any other television series quite follows the comic book formula quite as much as Doctor Who.
Star Trek for instance though a long runner isn't really the same as Doctor Who and Spider-Man, as all of the different Star Treks are ultimately different series with different characters, actors etc.
Added to that Star Trek whilst having many iconic aspects such as the Enterprise, and iconic alien races like the Klingons, doesn't really have a rogues gallery in the way that Doctor Who and comic books do.
In the original series there were actually only two recurring alien races, the Klingons and the Romulans, whilst in later series the Klingons, and other races like the Cardassians, and the Borg felt more like other actual races, rather than simply "Captain Picard's enemies".
They don't shout "YOU ARE THE ENEMY OF THE KLINGONS!" whenever they encountered Picard for instance. They were treated as simply another race that he and humanity had to try and find a way to peacefully co-exist with.
Other series meanwhile like Buffy and Xena, though undoubtedly drawing from comic books as their main source of inspiration; are still limited by the natural constrictions of television. They have a limited time to tell a story, they have to end when their leading actors get too old to do an action series, or simply don't want to appear anymore. Take for instance Callisto, Xena's archenemy who was written out of the show when her actress Hudson Leick stopped wanting to play her, and then compare her to the Master who was still able to appear after his original actor Roger Delgado was tragically killed.
Doctor Who I think is the only television series that can be said to follow pretty much the entire comic book formula from everything being exaggerated, to the fact that it can run indefinitely as the same canon as it isn't dependent on its cast, to finally its large set of iconic villains and supporting characters that will always reappear in order to reassure viewers and long term fans that it is still the same story they are following.
Fan Overlap
Not surprisingly there seems to be quite a large overlap between Doctor Who fans and comic book geeks.
One of the most famous examples is Ian Levine. For those of you who aren't familiar with him, Levine is a famous and influential record producer from the 70s and 80s. Whilst a respected and prominent figure in Northern Soul (with his record sales totalling over 40 million.) Levine is still better known in some circles for his life long love of Doctor Who and DC Comics.
Levine played an important role in stopping the BBC from destroying old Doctor Who tapes in the 1970s. Throughout the 70s the BBC destroyed many old tapes from all of their most popular television series. This was before the advent of home video and DVD, and there were only two channels back then as well, so even repeat showings were a rarity.
As a result old recordings were destroyed to make way for new tapes and sadly many Doctor Who stories were lost this way. Levine however played a big part in getting the BBC to stop junking old programmes altogether and even personally saved many Doctor Who stories from destruction, including the very first Dalek adventure.
Levine would also find many other lost Doctor Who stories overseas in the ensuing decades.
Ian Levine also served as the shows unofficial continuity adviser during most of the 80's as well and even supplied clips from old episodes to producer John Nathan Turner.
As for DC comics, Levine has possibly the only complete collection of DC Comics in the world with Levine owning at least one copy of each DC Comic book sold at retail from the 1930s to present.
Levine also played a key role in helping DC celebrate their 75th anniversary. His collection served as the basis for the massive 75th anniversary book.
DC Marks 75 Anniversary With Huge Tome
Despite the many good things he has done for Doctor Who and DC Comics, Levine is a very controversial figure among both fandoms (and not just because he produced the awful Doctor in Distress single in the 80s.)
By his own admission he can be a somewhat prickly individual, and has had major feuds with many prominent members of both fandoms. His most recent controversy was when he openly declared that he wouldn't watch Doctor Who anymore due to the casting of Jodie Whitaker as the 13th Doctor.
Superfanjustgoesballisticthiscastingisatrocious
Still regardless of whatever you may think of Ian it cannot be denied that without him a huge chunk of Doctor Who history would be lost forever.
You also got to respect that collection too.
Another influential figure in both fandoms is Paul Cornell. Now its no secret that I am not too keen on Paul Cornell's contributions to Doctor Who. I did not like either of the stories he wrote for tv. Still it doesn't matter what I think as both of those stories are very popular and Paul regardless of whatever else you may think of him did play an important role in keeping the show afloat during the wilderness years.
Cornell has also become a celebrated writer for Action Comics too, though he has written for various other characters over the years from Wolverine, to Captain Britain, to Vampirella.
Russell T Davies, the man who revived Doctor Who in 2005 was a big comic book fan as well. He even named the iconic Doctor Who character Captain Jack Harkness after the Marvel character Agatha Harkness.
David Tennant meanwhile who most famously played the Tenth Doctor for 4 years is also a huge fan of comic books too (and obviously was a Doctor Who fan growing up.)
From One David Tennant Fan To Another
Finally Grant Morrison is another major figure in both fandoms. Grant Morrison is definitely more famous for his contributions to DC and Marvel comics, but he actually began his career writing Doctor Who comic books as well.
Doctor Who and Marvel and DC comic books appeal to people in similar ways. There's the colourful rogues gallery, charismatic hero who can do anything, decades worth of stories, and rich, full universes full of strange creatures.
Specific Examples of Comic Books Influence on Doctor Who
60s Who/ The Dan Dare Years
Main Article The Roots of Doctor Who 7/ Dan Dare
I have written extensively about Dan Dare's influence on Doctor Who before, so I won't go into too much detail here.
However at the same time I can't not mention how Dan Dare helped to shape the time lords adventures when talking about comic book influences on the show.
I'd say that Dan Dare was the main influence on Doctor Who throughout the 60's. Many of its key writers during that decade were big fans of Dan Dare, including Terry Nation the creator of the Daleks, and Kit Pedler the co-creator of the Cybermen.
Dan Dare for those of you who are unfamiliar with it, was a British comic book series that initially ran from the early 50s right the way through to the late 60s, though there have been many revivals since. During its heyday, it was the most popular comic in Britain, regularly outselling any American comics like Batman, Superman and Wonder Woman.
It was set in the then future of the 90s which was depicted as a golden age where all the nations of the earth now lived together in peace, the technology was incredibly advanced, and mankind had begun to explore space. The main character was obviously Space pilot Dan Dare, whose main enemy was the evil Mekon, former ruler of Venus.
Terry Nations first two Dalek stories are similar to two Dan Dare adventures, Voyage to Venus and The Reign of the Robots. Voyage to Venus and the first Dalek story both revolve around a war between a race of ruthless, xenophobic monsters who live in a cold metallic city, surrounded by a lake of monsters, (the Daleks and the Treens) and a race of blonde haired pacifistic humanoids who don't want to fight due to memories of a previous conflict, but are ultimately convinced to by the main hero.
Reign of the Robots and The Dalek Invasion of Earth meanwhile both see the main heroes return to earth after a long absence only to discover that the Treens and the Daleks have conquered it and wiped out most of humanity. Both stories also feature the Daleks and the Treens using robot servants to help rule humanity, which Dan and the Doctor are able to turn on the Daleks and the Treens at the end.
The Tenth Planet, the first story to ever feature the Cybermen, also follows a similar plot to the second Dan Dare adventure, The Red Moon Mystery. Both feature a planet that falls out of its orbit, and later becomes a kind of giant spaceship. Its inhabitants also become hideous monsters, who are forced to conquer other races in order to survive
The Daleks and the Cybermen were closely inspired by the Treens too. The Daleks and the Treens were both cold and logical monsters who sought to conquer other races in the universe. Both were based on the Nazis, with The Dalek Invasion of Earth and The Reign of the Robots both representing a what if the Nazis had won the war scenario too.
The Cybermen meanwhile and the Treens both lose their planet in their first story. Mondas the Cybermen's home planet is destroyed, whilst the Treens are merely driven off of Venus by the Therons and humanity. Still all of their subsequent stories portray them as desperate and show them trying to reclaim their former power and influence.
The Mekon, the leader of the Treens and Dan Dare's archenemy also inspired a number of villains in Doctor Who.
First and foremost, Davros the evil creator of the Daleks was inspired by the Mekon in terms of personality and design. Both Terry Nation and Philip Hinchcliff, the producer of Genesis of the Daleks admitted to this.
Davros also fulfilled a similar role to the Daleks and the Doctor as the Mekon did to the Treens and Dan Dare. The Daleks and the Treens are all basically drones who think the same. Thus Davros and the Mekon were designed to give the main hero a single adversary that they could interact with in a one on one basis.
Both Davros and the Mekon would also later attempt to destroy the Treens and the Daleks so that they could build in a new super race of Daleks and Treens, as seen in the stories All Treens Must Die and Resurrection, Revelation and Remembrance of the Daleks.
The Cybermen would also gain a Mekon like figure in the Cyber controller. The Cyber Controller was originally intended to be a small, withered creature with an enlarged braincase like the Mekon. They even intended for the Controller to fly as well. Sadly however the budget would not allow for it and so the Cyber Controller merely had an enlarged brain which still came from the Mekon.
The Ice Warriors leader, the Ice Lord, first appearing in The Seeds of Death was also inspired by the Mekon visually. Like the Mekon he had green skin, was weaker physically than his servants, but had an enlarged brain.
There were also a number of more minor aliens whose look at least was inspired by the Mekon too including Sixth Doctor adversary Sil, and the Moxx of Balhoon.
You can definitely see how all of these guys are just kind of variations on the Mekon's look.
Dan Dare and Doctor Who together shaped popular sci fi in the United Kingdom and though Dan Dare has sadly fallen from mainstream attention, there is still quite a lot of overlap between Classic Who fans and Dan Dare fans (particularly the original Frank Hampson era Dan.)
70s Era Who/ DC and Marvel Comics Take Hold
The Jon Pertwee era borrowed a bit from DC and Marvel comics. It makes sense in a way. During the 60s Doctor Who was all about exploring other planets, so many of the writers of the show would naturally turn to Dan Dare for inspiration.
During the early part of the 70s however, the Doctor was exiled to earth and so I think we see the writers of the show start to turn to old American comics about earth bound heroes (among other things) like Batman, Superman and the Fantastic Four instead.
Over the years the Third Doctor has been compared to many characters from James Bond to Bernard Quatermass to Sherlock Holmes to Jason King, yet surprisingly hardly ever Batman.
Now to be fair there are elements of all those characters in the Third Doctor. The great thing about the Third Doctors era is that its just pure escapism. Terrance Dicks and Barry Letts, the script editor and producer respectively combined elements from so many great adventure stories together, from old Errol Flynn movies to Star Trek episodes, to Sherlock Holmes stories to make what was one of the best era's of Doctor Who in my opinion.
Still there is definitely a bit of American comic books in there too which sadly is almost never commented on.
The Third Doctor is kind of like Batman in a number of ways. He is a big dashing hero in a cape who uses gadgets, is a great scientific genius, yet also an incredibly skilled hand to hand combatant too.
His relationship with Brigadier Alistair Gordon Lethbridge Stewart is also very similar to that between Batman and Commissioner Gordon. The Brig and Gordon are both figures of authority who though competent at their jobs are sadly not able to deal with the more colourful and crazy villains they regularly face. So they often call in their somewhat unusual friend in a big cape who technically operates outside the law to help deal with them.
The Brig and Gordon also have ways of summoning the Doctor and Batman when they need them too, the Bat signal, and the space time telegraph respectively.
The Doctor during his time with UNIT also has two trademark special cars like Batman's famous Batmobile (one of which was actually called the Whomobile.)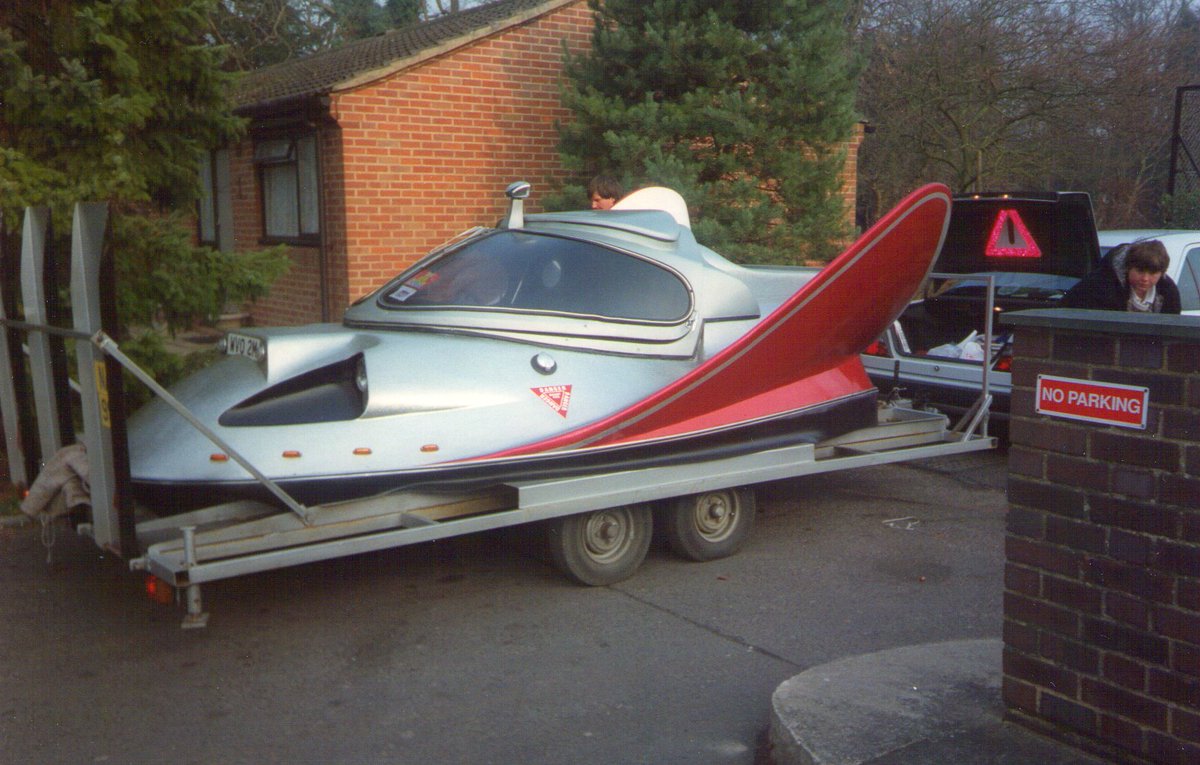 Not quite as iconic as the Batmobile, but it served Jon Pertwee well.
Also more importantly the Doctors archenemy introduced during this period, The Master is really an amalgamation of comic book villains.
The initial inspiration for the Master was Moriarty, but I think that when shaping the character, Terrance Dicks and Barry Letts actually drew more from comic book villains instead.
You can draw quite strong comparisons between the Master and many of the most iconic Marvel and DC comic book villains like the Joker, Lex Luthor and Doctor Doom.
The Master much like the Joker is a villain whose real name and identity we don't know.. They both simply go by an alias and their origins even after all of this time, are still shrouded in mystery.
Both also have a gruesome way of killing their victims which serves as a calling card, letting the hero know they are in town.
In the Jokers case this is smilex, a lethal form of laughing gas which causes its victims to laugh themselves to death, and leaves their corpses with a hideous grin similar to his own.
In the Masters its his tissue compression eliminator which shrinks his victims.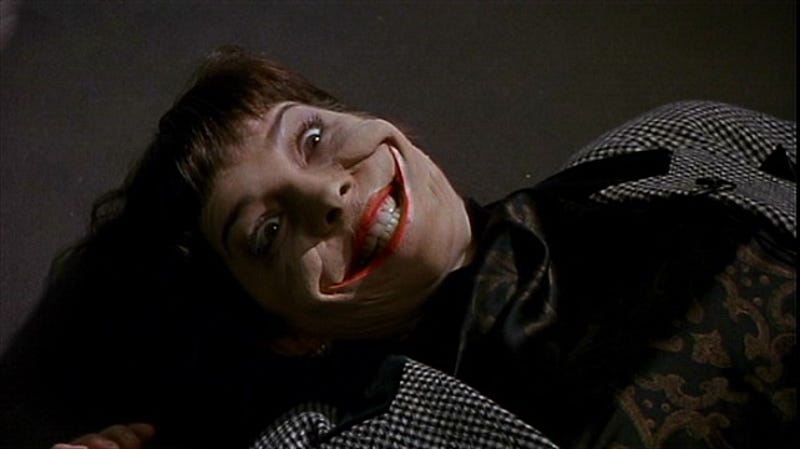 The Master much like the Joker is also a master of disguise too. Many old Joker stories including his first appearance will feature the villain wearing a disguise that seemingly makes him look like a totally different person, but it will later be revealed to simply be a latex mask and wig leaving you to wonder how Batman didn't know it was him.
Similarly the Master during the Delgado years would often wear a disguise so perfect that another actor would actually play the role whilst he was in that disguise, but when he revealed himself, Roger Delgado would just pull a crappy latex mask off.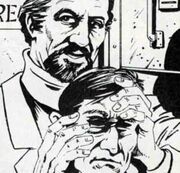 The Master also much like the Joker is utterly obsessed with not just destroying the Doctor but in proving that he is superior in every way. In the story called the Mind of Evil the Masters is exposed to a machine that reveals his true fear, which is revealed to be a giant Doctor laughing at him relentlessly. This is also replicated in Trial of a Time Lord where an evil version of the Doctor is created called the Valeyard who taunts the Master, calling him a second rate adversary and even outright laughs in his face, all of which deeply disturbs the Master.
The Joker meanwhile has been shown to be deeply insecure whenever Batman taunts him. Its even hinted that the reason he is so fixated on Batman is because Batman is utterly humourless and therefore in his twisted mind won't "upstage him".
The best example of this is in the classic animated movie Batman Beyond Return of the Joker, where the second Batman Terry McGuiness battles a resurrected Joker 50 years on. This Batman unlike the original outright mocks the villain to his face and laughs at him and the Joker even by his standards completely loses it!
The Master and the Joker are the classic examples of being able to dish it out, but not take it. 
Whilst the Master does bare many similarities to the Joker, at the same time there are also shades of both Lex Luthor and Doctor Doom in his characterisation too.
During the Delgado era the Masters main aim was to rule the galaxy because he believed, genuinely that under his rule he could make it a better place. He believed that he could advance societies like earth, protect them alien threats and help them achieve their true potential.
None of this was motivated by genuine altruism, just simply his own ego.
Lex Luthor and Doctor Doom similarly are great geniuses who believe that when they rule the earth it will be a better place. In Doctor Dooms case he is actually right in some ways as the few alternate, what if scenario's that do show him successfully rule the world, actually depict him as being capable of solving many of its problems such as hunger, disease, crime, and poverty, albeit at the expense of its people's freedom.
Take a look at these quotes from The Master and Doctor Doom that both show the villains have essentially the same goal (with the Masters usually merely being on a grander scale.)
MASTER: Doctor, why don't you come in with me? We're both Time Lords, we're both renegades. We could be masters of the galaxy! Think of it, Doctor, absolute power! Power for good. Why, you could reign benevolently, you could end wars, suffering, disease. We could save the universe. 
Doctor Doom: I now possess the power to end hunger, to abolish disease, to eliminate crime, to establish a perfectly content, perfectly ordered world. All under the benevolence of MY IRON WILL!
Much like Lex Luthor and Doom the Master is also a charming, affable, gentlemanly, cultured villain on the surface, but will erupt into fits of psychotic rage when his plans are foiled.
The Master also much like Lex Luthor often makes dodgy alliances with villains and aliens much more powerful than he is which will almost always end with one of them double crossing the other.
This can be both a strength and a drawback to the two villains however. Sometimes it can make them look a bit stupid the way they team up with villains who are obviously going to stab them in the back. At other times however the reverse is true and we can see just how devious and cunning the two villains are the way they are able to manipulate and turn the tables on villains so much more powerful than they are.
The Master is also established as having been the Doctors friend when the two were growing up. The idea of the villain having once been the heroes friend is a very popular trope in comic books.
Lex Luthor and Superman were established as having been friends when they were younger very early in their development. This would later resurface most famously in Smallville which revolved almost entirely around Lex and Clark's friendship slowly breaking down as they go down different paths.
Doctor Doom and Reed Richards were also shown to be close friends during their days at University before they became the bitterest of enemies.
Batman and Two Face are another classic example of this. Harvey Dent was once Bruce's best friend for many years, but sadly after Harvey's accident drove him insane he became one of Batman's deadliest enemies, Two Face.
Harry Osborne who later becomes the second Green Goblin also is initially Peter Parkers best friend too.
Even Sabretooth and Wolverine were once friends before their bitter rivalry and then of there is Magneto and Professor X, probably the most famous example of the villain and the hero having once been friends.
The Master and the Doctors relationship I'd say is the most comparable to Doctor Doom and Reed Richards during Delgado's time.
The two were friends because they viewed the other as their intellectual equal and enjoyed exchanging ideas with the other. Both also in their own way want to help other people, but its ultimately their approach that turns them into the bitterest of enemies.
Doom and the Master believe that in order to make a difference they need to rule. The Doctor and Richards meanwhile believe in simply offering their help to people, but do not wish to force their way of life on anyone.
The Master and Doom are happy to sacrifice any number of innocent lives meanwhile for the sake of their greater good and as time goes on this just leads to them becoming more corrupt and ironically viewing all life as expendable.
The Doctor and Richards in contrast come to view all life as being precious (though to be fair the Doctor is more willing to kill his enemies.)
The Master and Doom also grow to develop a petty obsession with proving their superiority to the Doctor and Reed Richards, the only person that ever truly challenged their intellect. Naturally the more times they are foiled, the more their hatred grows until eventually they lose all traces of their former friendship with the Doctor and Reed Richards.
Whilst Reed and the Doctor always manage to prevent the Master and Doom from taking over the world, they are never able to truly defeat them either. Doom and the Master are among the very few villains who never receive any kind of punishment for their crimes. At least the likes of the Joker and Doc Ock go to prison (for all the good it does.)
The Master apart from one instance is always free to roam the universe causing more havoc, whilst Doom still remains the head of Latveria.
Thus Doom and Richards, and the Doctor and the Master are locked in a horrible never ending cycle, ironically for the same reason that they were initially friends. They are each others intellectual equals, and so initially they bonded as they believed the other was the only other person on their wavelength, but now that they have become enemies they will never be able to overcome the other.
Later versions of the Master would expand on he and the Doctors friendship to the point where it would bare more similarities to other characters. For instance later episodes established that they were actually childhood friends like Superman and Lex Luthor. Also in the Tenth Doctors era, his relationship with the Master actually resembles Batman and Two Face and Peter Parker and Harry Osborne more.
Here the Master is re-imagined as a total psychopath who was driven mad by a constant drumming in his head, and the Doctor just like Batman and Spider-Man in their dealings with Two Face and Harry wants to try and cure his former friend, knowing that deep down he isn't really evil, just damaged.
Still during the Delgado era, then the Master and the Doctor definitely have more of a Reed Richards and Doctor Doom dynamic than anything else and this would continue to throughout pretty much all of the Classic era.
Doctor Doom can also be seen as a possible influence on the next incarnation of the Master after Roger Delgado as well. Visually both are hideously disfigured, hooded villains.
The Master is really just every great comic book villain, the Joker, Lex Luthor, Harry Osborne and Doctor Doom all rolled into one which is what undoubtedly helped to make him such as instant fan favourite along with of course Roger Delgado's stellar performance.
(Its also worth noting that the Masters weapon, the Keller Machine in The Mind of Evil is exactly like the Scarecrow from Batman's fear gas in that it kills its victims by making them experience hallucinations of their worst fears.)
Another major character from 70's era Doctor Who that has their roots in American comic books is arguably the most popular of all the Doctors companions. Sarah Jane Smith.
The biggest inspiration on Sarah (by her creators Terrance Dicks and Barry Letts own admission) was Superman's love interest Lois Lane. Sarah was a feisty investigative journalist just like Lois who often got herself into trouble.
Physically Sarah resembled Lois too. She dressed in a similar fashion, and her hair was also in a bob cut, which Lois was famous for having too at that time.
Throughout the Fourth Doctor, Tom Bakers era, Sarah Jane's Lois Lane characteristics were slowly phased out, but they would make a return in her own spin off, the Sarah Jane adventures in the late 00's, early 10's.
Overall I think the comic book influence began to fade during Tom's time. Though there were still a few notable examples.
As I have already mentioned Davros was inspired by the Mekon, and in the classic story The Seeds of Doom the main antagonist Harrison Chase was completely inspired by the Batman villain Poison Ivy.
Poison Ivy is one of Batman's most iconic enemies. She loves plants and is happy to sacrifice any number of innocent people to protect them. In some stories she even attempts to wipe humanity out to protect all plant life, or convert humanity in plant creatures. She also later becomes a plant human hybrid too.
Harrison Chase meanwhile similarly prefers plants to people (at one point he is shown to grind up a helpless UNIT soldier and then feeds his remains to his plants. )
He also plans to aid a group of alien plant monsters called the Krynoids take over the earth and later becomes converted by them too just like Poison Ivy.
The Krynoids visually are not too dissimilar from the giant plant monsters that Poison Ivy regularly keeps as pets as well.
Its just such a shame that Harrison Chase and Poison Ivy were never able to meet. He'd have been her perfect man!
Whilst there were a few comic book influences throughout the Hinchcliff/Holmes era, ultimately throughout the later part of the 70's I think horror movies, old myths and legends, and Sherlock Holmes stories began to play a greater role in helping to shape the Fourth Doctors era and character.
Russell T Davies Era/ Doctor Who Does Marvel
When Doctor Who was revived in 2005 by Russell T Davies, the show began to draw more from American sci fi and fantasy than ever before.
Whilst there had always been examples of the original Star Trek series and as we have seen Marvel and DC comics influence on 70s Doctor Who, ultimately most of the influences on Doctor Who were British forms of entertainment from Dan Dare to James Bond, to British Horror Films, to Sherlock Holmes, to Quatermass.
When RTD took over the show however he tended to draw more from American series like Buffy, Xena, Smallville and Charmed. As a result of this Doctor Who in some ways came to resemble an American sci fi or fantasy series more in Christopher Eccelston and David Tennant's time with its story arcs, focus on the characters relationships, flashy effects and season long antagonists.
Once again comic books as well as some of their most famous adaptations would be among the influences Davies and other writers of the 21st century Doctor Who would draw from. Arguably to an even greater extent than Barry Letts and Terrance Dicks.
I think that Russell T Davies was definitely more of a Marvel guy than a DC guy. There are some examples of DC comics influence in his time sure, but overall I find that it owes more to Marvel.
Russell T Davies had actually set out to be a cartoonist first, but sadly the fact that he was colour blind meant that he was forced to abandon these ambitions.
The character of Captain Jack Harkness was named after Marvel character Agatha Harkness, by Davies own admission, but the parallels obviously run deeper than that.
The main story line throughout the Tenth Doctors era is really the Cult of Skaro arc. Not only does it span seasons 2 to 4, but it also is responsible for most of the big developments in 10's character such as the loss of Rose, meeting Donna, losing Donna etc.
Now the Cult of Skaro story arc bares some strong similarities to the Madame Web arc which runs throughout most of John Sempers excellent 90's Spider-Man animated series.
Both revolve initially around the misuse of technology that can allow travel between universes.
In both instances the heroes deadliest enemies, Venom, Carnage, the Green Goblin and the Daleks and the Cybermen, are all lost through portals leading to another universe, but unfortunately so is the heroes one true love, Mary Jane and Rose Tyler.
Two seasons later meanwhile one of the villains lost through a portal to another universe returns (the Daleks and the Carnage symbiote which bonds to an alternate version of Peter Parker who becomes Spider-Carnage) and creates a super weapon that can destroy every single universe.
The weapon is activated and all universes are destroyed, but a few people are able to travel backwards in time just before the blast hits their universe, Rose Tyler, Mickey Smith, and Jackie Tyler in Doctor Who's case, Madame Web and the Beyonder in Spidey's.
These people try and warn the main hero, Spider-Man and the Doctor about the impending destruction of all universes. In both cases this is a story arc that runs through multiple episodes.
We see Rose Tyler pop up throughout series 4 trying to find and warn the Doctor of the death of every universe, whilst Madame Web starts appearing to Spider-Man warning him of a great battle for every universe.
Multiple versions of the hero are also needed to stop this crisis, the Doctor, his clone, Donna who gains his powers, and the alternate versions of Spider-Man.
Both stories also see an ordinary, seemingly unimportant person ironically play the key role in stopping the great danger to all universes more so than the hero. Uncle Ben who gets through to Spider-Carnage in Spider-Man's case and obviously Donna Noble in the Doctors.
Also finally in both cases the next story (or planned story) sees the hero travel backwards to Victorian England to battle an old enemy who travelled backwards in time after being lost through a portal to another universe.
In Doctor Who's case this is the Cybermen who were sucked through the portal to another universe two years earlier in the story Doomsday. In Spider-Man's case meanwhile John Semper Jr revealed that he intended to have the 6th season of Spider-Man open with Madame Web taking Spider-Man to Victorian England where he would discover that Mary Jane and the real Carnage had both ended up there after falling through the portal to another universe two years ago, with Carnage being revealed to be the real Jack the Ripper. (It can be assumed with this in mind that the Carnage symbiote who bonded to Peter Parker was therefore an alternate universe version.)
Sadly Semper's story line was never realised, but in a way it was through the Next Doctor, as both ultimately revolve around a hero who has just saved every universe travelling to Victorian England to fight another old enemy that they had previously sent hurling into another universe two series earlier, who is now creeping about in the dark picking people off.
This is not to say that Davies ripped off Spider-Man tas. Ultimately the Reality Bomb story arc does stand up as its own story, (and its one of my absolute favourite story arcs in anything. I love the way RTD is able to weave so many different strands together for the finale, from Tennant losing his hand, to Mr Copper being left on earth, to Jack being made an immortal.)
Still you can see how RTD a noted Marvel fan had Semper's classic adaptation of Spider-Man in mind when writing Doctor Who.
Whilst Marvel might have been the main influence on Davies era Who, his version of the Master I do think did draw inspiration primarily from the DC villain the Joker.
The Simm version of the Master was rewritten to be a complete cackling psychopath like the Joker. Take a look at this moment where he gasses a group of people for no reason other than kicks, and tell me you couldn't imagine the Joker here?
Whilst there were similarities between the Master and the Joker from day one, as you can see Davies went one step further and made the character almost completely the same.
The Simm Master also much like the Joker is someone who went mad because of one bad day.
In the Jokers case he went insane (allegedly) when his pregnant wife Jeannie was killed in an accident, and he then fell into a vat of chemicals during a botched robbery of a chemical plant, with the chemicals bleaching his skin white and deforming him into having a clown like appearance.
The Master meanwhile was driven mad when he was forced to stare into the vortex as a young boy. From that day on he heard a constant drumming in his head. (It was later revealed that the Time Lord President Rassilon implanted a signal into his head to help him escape, which took the form of the drumming in his head.)
Both of the Davies era Master stories also take inspiration from two major Joker story lines.
In Emperor Joker the villain gains cosmic powers which he uses to rule the universe. He naturally tortures Batman over and over again, but the end of the story sees Batman reinvigorated and loom over a weakened, cowering Joker who is ultimately overthrown.
In The Last of the Time Lords the Master finally takes over the earth and tortures the Doctor for a year, until eventually the Doctor is reinvigorated after which a giant, God like Doctor looms over the Master who is subsequently overthrown.
In both cases the Master and the Joker are not only overthrown, but their reigns over the earth are completely erased too, with only the main heroes having any memory of it. Sadly in both cases though it never happened, some of the people who lived through it are still broken, namely Francine Jones and Batman.
In The End of Time meanwhile the Master turns everyone on earth into copies of himself, which is exactly the same as the Jokers plan in the crossover comic event The Last Laugh where he turns people into clones of himself.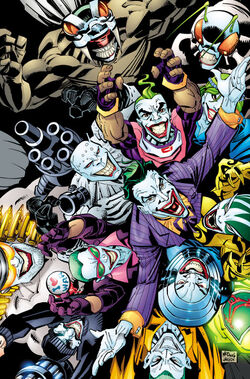 Doctor, Batman admit it. You've both had this exact nightmare!
When Steven Moffat took over I think the comic book influence began to fade somewhat.
Steven Moffat tended to see Doctor Who as more of a fairy tale, but that's not to say that he didn't draw some inspiration from comics.
The 11th Doctors era often explores the effect the Doctor has on his enemies such as the Daleks. As a result of the Doctors influence, the Daleks discover time travel, and become far more powerful and dangerous than they ever would have otherwise.
This same theme is explored in many adaptations of Batman, including the Nolan trilogy, that in response to Batman, a more elaborate crime fighter, the criminals start to become more insane and over the top too.
The Heath Ledger version of the Joker in particular sees himself as a response to Batman, and Commisioner Gordon's apparent widow at one point even blames Batman for the rise of the Joker declaring that he brought this madness down upon Gotham.
In the season 9 two parter, The Magicians Apprentice and The Witch's Familiar, there is also ascene where Davros and the Doctor, two bitter archenemies, share a joke with each other and laugh, which Steven Moffat openly admitted was inspired by the famous ending of The Killing Joke.
See here.
Finally Steven Moffat also actually had a full blown superhero in the most recent Doctor Who Christmas Special. The episode was seen by many as a love letter to superhero movies (and by others as a cynical attempt to cash in on the superhero craze.)
As you can see whilst they haven't been its only influence, Doctor Who has taken quite a bit from comic books over the years.
Of course its not been all the one way. There have been many examples of comic books, and their adaptations taking inspiration from Doctor Who as well.
Doctor Who's Influence on Comic Books
Day of the Daleks vs Days of Future Past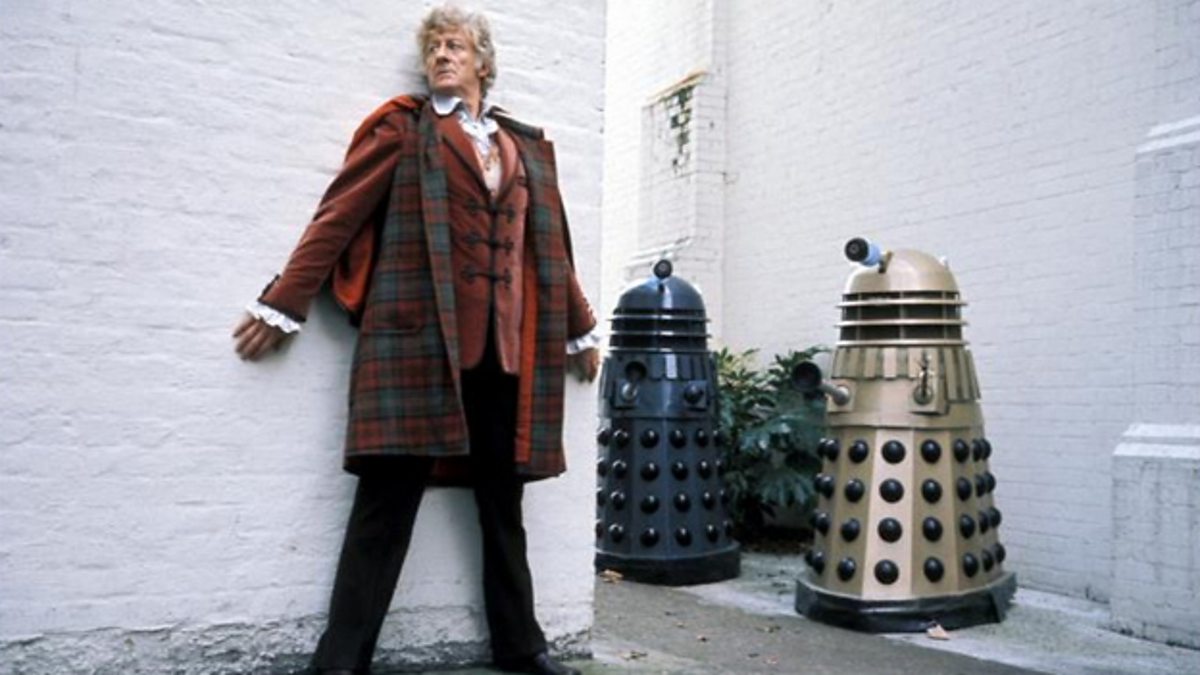 Days of Future Past is arguably one of the most influential comic books of all time.
Its premise sees the mutant Kitty Pryde travel backwards in time to prevent the assassination of Senator Robert Kelly by Mystique's brotherhood of mutants.
The murder of Kelly will kick off widespread anti mutant feeling that will lead to the creation of Sentinels who in the future will virtually exterminate most of mutant kind and eventually overrun humanity too.
In the future Kitty Pryde comes from what's left of humanity is rounded up into internment camps by Sentinels.
Though Kitty is successful in stopping the assassination, it is left open as to whether or not she has truly erased the future she came from.
Days of Future Past has been adapted by various X-Men animated series over the years and was later adapted as the 2014 film X-Men Days of Future Past where Wolverine took the place of Kitty Pryde (though it was still Kitty who sent Wolverine back in time.)
Day of the Daleks meanwhile sees a group of rebels travel into the past to assassinate Sir Reginald Styles.
Styles is an influential politician who will soon be gathering all of the worlds leaders together to try and negotiate peace (with the earth being on the brink of a Third World War.)
According to these future soldiers however Styles is really a psychopath, who will blow all of the world leaders, and himself up in a kamikaze attack.
This will kick off a Third World War which lead to the near extinction of mankind. The Daleks will then invade the earth and take over what little is left of humanity.
Just like the Sentinels the Daleks round the unfortunate humans up into concentration camps, though a few humans are able to resist and even steal Dalek time travel technology which they use to travel backwards in time and try and kill Styles before he can cause the war.
It turns out however in a twist that it wasn't Styles who killed the other delegates. It was in fact one of the rebels from the future who blew up the house in an effort to kill Styles (whilst being unaware that the peace conference was going ahead.)
The Doctor is able to stop Styles and the other Delegates from being killed, despite the Daleks efforts to make sure their version of history isn't changed.
The ending however still leaves it open that this terrifying version of the future may still happen.
As you can see there are a lot of very strong similarities between the two stories. Both revolve around a political assassination creating a war that wipes out most of humanity. In both cases the people carrying out the assassination ironically believe that they are doing the right thing. Mystique believes she is standing up for mutants rights, whilst the rebels from Day of the Daleks think they are changing history for the better.
After both world wars, horrifying machine creatures take over and round up the few unlucky survivors into concentration camps and turn them into a slave labour force.
Whilst the main heroes are able to change history so that this never happens, in both cases there is still a question mark hanging over the story's conclusion about whether or not they have actually averted or perhaps just postponed this nightmarish vision of the future.
John Byrne was a massive Doctor Who fan and even admitted that he took inspiration from Day of the Daleks. In fact he joked that he was lucky not to get sued.
In all fairness to Byrne though I wouldn't call Days of Future Past a rip off. It covers the same beats as Day of the Daleks but ultimately it does establish its own identity.
Interestingly enough, both Day of the Daleks and the film version of Days of Future Past both show the horrible future being averted at first, but ultimately a different horrible future take its place.
Now this similarity I think was completely unintentional, but still according to Doctor Who lore, the Daleks will still invade and conquer the earth in the 22nd Century (as seen in the earlier story The Dalek Invasion of Earth.) Ultimately however it will be repelled eventually and humanity will rebuild, and survive to the end of time!
Still billions will be slaughtered in the 22nd century invasion and many thousands more will have to spend decades under the rule of the Daleks and sadly there is nothing the Doctor can do about it. All he could do was make sure the version in Day of the Daleks where the monsters never lost was erased.
Similarly in the X-Men film series, whilst Wolverine is successful in erasing the time line where sentinels wiped out mutantkind, sadly in the new timeline, the humans are still able to create a drug which nearly exterminates all mutants anyway.
Its sad that in both cases the happy ending didn't work out, nevertheless this does still tie into a big theme with both Doctor Who and the X-Men film series that certain events have to happen. Beast explains that time is like a river, and that you can throw a pepple into it and disrupt it, but it will always correct itself.
Similarly Doctor Who explores the idea of fixed points in time and space too.
With this in mind all the Doctor and the X-Men could ever do was just lessen the horrors of the Dalek Invasion and the war between mutants and humanity.
Still at least in the version where they invade in the 22nd century, the Daleks lose, whilst in the Logan version of events whilst most mutants may have been killed, some do survive, and the public's reaction to mutants is still positive, as demonstrated by the fact that the government had to create the drug in secret, and the fact that the X-Men comic is still popular. So perhaps one day when the mutants have recovered there will be a positive reconciliation.
The 5 Doctors vs The Secret Wars
The Secret Wars and the 5 Doctors are fairly similar stories. Both are not only big crossover events that bring together almost everybody whose important in either universe, but both also follow the same basic premise.
In the Secret Wars an all powerful being called the Beyonder whisks all of Marvels greatest heroes and villains away to a planet that he creates called Battleworld. He promises whichever side wins ultimate power over the galaxy forever, though Doctor Doom later steals his power and uses it to destroy the heroes before everything is undone and restored to how it once was.
The 5 Doctors meanwhile sees Borusa, the president of the Time Lords abduct all then incarnations of the Doctor, as well as many of his companions and place them in the Death Zone.
The Death Zone is an area of Gallifrey where the Time Lords would send monsters and aliens that they had abducted from all over time and space to fight to the death for their own amusement.
The Doctors are placed there in order to play the game of Rassilon for Borusa so that he can win immortal life. In the end Borusa gets it, but it turns out to be a trap, set by Rassilon to catch power hungry dictators, and Borusa gains immortal life as a statue.
As you can see both stories follow a similar premise. Basically a big all powerful being abducts all of the main heroes and forces them to fight their worst enemies as part of a twisted game. In both cases one of the villains involved in the game, the Master and Doctor Doom (two already comparable characters.) Plan to steal the person who has brought them there's power, though it doesn't work out quite as well for the Master. I suppose though that's just as well considering that whilst Doom became a god after stealing the Beyonder's powers, the Master would have been turned into a statue.
Weird Happenings Organisation vs UNIT
In the Excalibur comic series there was a brilliant tribute to UNIT and the popular recurring character of Brigadier Alistair Gordon Lethbridge Stewart.
UNIT were an organisation set up to combat alien threats. They first appeared in the 1968 story The Invasion. The Doctor would primarily work with them when he was exiled to earth, but has continued to be associated with UNIT in the ensuing decades.
Brigadier Alistair Gordon Lethbridge Stewart was the head of UNIT and would continue to work with the Doctor long after he had left it, becoming the Doctors best friend.
Now in Exacalibur the Weird Happenings Organisation much like UNIT is a military, government organisation designed to track down paranormal threats.
Now not only does this organisation's initial's spell out W.H.O. but it was founded and headed by a woman named Aylsande Stuart and her twin brother Doctor Alistair Stuart!
Furthermore, Alistair is a mutant who regularly changes his appearance. His current form looks remarkably similar to Scottish actor David Tennant who played the Tenth Doctor, (the character of Alistair is also said to come from Scotland.)
Is that David Tennant or is that David Tennant?
This wasn't the first time that Marvel has referenced the Brigadier to be fair. In an issue of Uncanny X-Men a character called Brigadier Alistair Gordon Lethbridge Stewart shows up to help battle the Juggernaut in Edinburgh.
Other Media Adaptations 
There have been various bits and pieces of Doctor Who's influence across adaptations of Marvel and DC characters.
The Elf army in Thor: The Dark World resembled the Cybus Cybermen from Doctor Who (its worth noting that the main villain was played by Christopher Eccelston a former Doctor Who, though ironically his Doctor never met the Cybermen.)
The makers of the Arrowverse are big Doctor Who fans too and have included quite a few references to it and cast various actors from the new Doctor Who in prominent roles. Alex Kingston best known as River Song plays Dinah Lance on Arrow, whilst John Barrowman aka Captain Jack famously plays arch villain Malcolm Merlyn.
Finally Arthur Darvill who played former Doctor Who companion Rory Williams plays Rip Hunter in the series Legends of Tomorrow.
Rip Hunter is also re-imagined as a more Doctor like character for Legends of Tomorrow as well. Here he is a renegade from a group of people called Time Masters, whose mission is to preserve the time line and not interfere, but are later revealed to have more shady motives.
In the original comics Rip was just a scientist who had invented a time machine, and though a similar organisation called the Linear Men were introduced in the 90's, the original Rip did not originate from them (though he did join them briefly before leaving them.) They were also less significant and more colourful in appearance.
You can tell the writers intended to create a Doctor/Time Lord dynamic between Rip and the Time Masters.
Rip was re-imagined as being a renegade who stole a time ship from them just like the Doctor did with the Time Lords and the TARDIS. Also the Time Masters are portrayed as being more uptight custodians who claim to be working for a greater good, but are actually responsible for a catastrophe in earth's future, just like the Time Lords in Trial of a Time Lord when they sent the earth through space.
The original Linear Men.
The version from Legends of Tomorrow who as you can see have more of a Time Lord look to them. IE dusty, pompous robed old conservatives whose hands aren't nearly as clean as they'd like you to believe.
Finally Rip's costume was also based somewhat on the Tenth Doctors look as well.
Conclusion
As you can see there is quite a bit of overlap between Doctor Who and Comic Books in terms of ideas and fans.
Whilst Doctor Who may be a television series, he is a comic book character in terms of having an incredibly long life, a colourful rogues gallery, and fantastic powers.
With this in mind its not so surprising that he has enjoyed such incredible success as a comic book character too.
Thanks for reading.