]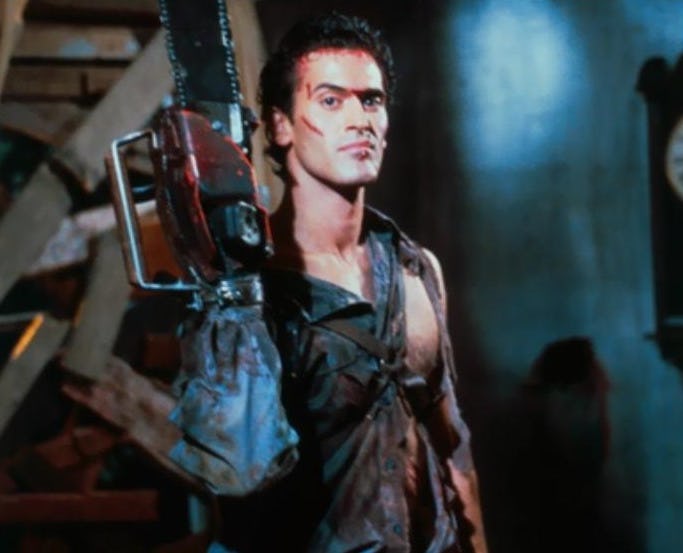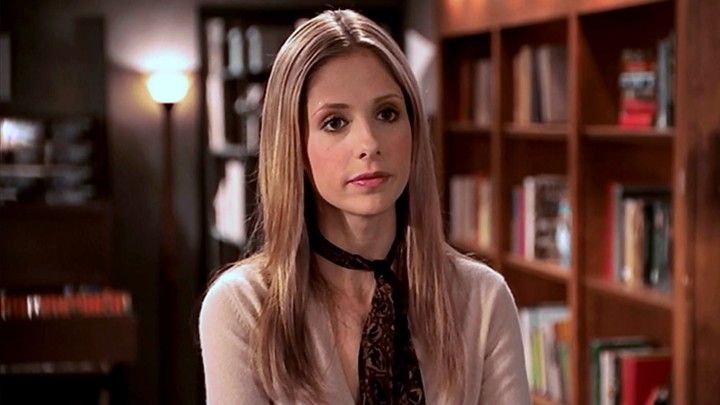 Recently I've noticed some strong similarities between two of my favourite horror franchises. The Evil Dead and Buffy the Vampire Slayer.
I'd go as far as to say that they are more comparable to each other than to any other franchise in terms of style, tone and premise as we will soon see.
Overview of Both Series
The Evil Dead franchise began with a low budget independent horror movie, called Within the Woods, directed by Sam Raimi and starring Bruce Campbell and Ellen Sandweiss.
The film revolved around a group of twenty somethings stumbling upon an old cabin in the woods, built next to an Indian grave yard. The spirits from the grave however soon possess one of the group, Bruce (played by Campbell), who goes on to pick off the others one by one. Though Ellen (played by Sandweiss), Bruce's girlfriend is able to slay Bruce. The ending of the film shows that the spirits have survived and leaves her fate open as one of her possessed friends advances on her from behind.
Evil Dead 0.
The film proved to an unexpected success after being shown as a b-movie before a screening of The Rocky Horror Picture Show.
A few years later in 1982. Raimi would produce a remake, titled The Evil Dead which followed the same premise. Rather than being spirits from an Indian graveyard however. The monsters were Demons from hell, summoned by a book called the Necronomicon.
Bruce Campbell and Ellen Sandweiss also played brother and sister rather than lovers, and switched roles. Ellen's character was now possessed by the Demons, whilst Bruce's character, renamed Ash, became the final survivor.
The ending of Evil Dead similarly saw the last survivor, Ash, being attacked by the Demons after he believed he had banished them, leaving his fate open.
The film was a huge success, though it also proved to be extremely controversial due to its excessive gore. It was even banned in the United Kingdom.
A sequel would be produced in the late 80s, Evil Dead 2: Dead By Dawn, which has often been mistaken for a remake as it opens with Ash and his girlfriend Linda from the first movie arriving at the cabin and reading from the book. Linda is also played by a new actress. However it is still intended to be a sequel. Raimi and Campbell had intended to open Evil Dead 2 with a recap of the first film, but they couldn't get the rights as it was owned by a different company. Instead they were forced to reshoot a recap of the first film.
5 minutes into the second film, the Demons are shown to grab Ash just like the ending of the first Evil Dead. Everything from there on can be considered a sequel (and would later be by the series Ash Vs Evil Dead.)
Evil Dead 2 sees the owner of the cabin Raymond Knowby's daughter, Annie arrive at the house. Though initially believing Ash killed her parents, she later discovers the truth when her demon possessed mother Henrietta returns. Ash and Annie are able to send the Demons back to hell using the Necronomicon, though sadly Annie is killed before she can close the portal and Ash is also sucked through.
The ending reveals that the portal actually sent both the Demons and Ash to the medevil era.
Several years later another sequel would be released titled Army of Darkness which would see Ash battle the forces of the Necronomicon in the 12th century. At the end of the film Ash, after defeating the Demons is given a magic potion that will send him back to his home era.
From here there are two endings. The original intended ending from Sam Raimi, and the more family friendly ending for the theatrical cut. (Though interestingly enough neither of these endings would be regarded as canonical by subsequent entries in the series.)
Original ending.
Theatrical ending.
Over the course of the next two decades. Ash would return in various comic books and video games, including several crossover series which would see Ash encounter such characters as Xena the Warrior Princess,  Jason Vorhees, Freddy Krueger and even several Marvel superheroes.
There was also a remake of Evil Dead in 2013, featuring a new female hero. The remake though successful, was more of a serious horror movie like the original, than the later entries which tended to blend humour and horror.
Two years later in 2015, Bruce Campbell finally made a full return to the role in the series Ash vs Evil Dead. This series saw Ash come out of retirement (after accidentally unleashing the Deadites again) and be forced to work with two new Demon slayers, Kelly Maxwell (played by Dana Delorenzo), and Pablo (played by Ray Santiago). The series also expanded on the Demon lore, revealing who created the Necronimcon and introduced the character of Ruby, played by Lucy Lawless (best known for her role as Xena the Warrior Princess.)
Running for 3 series, Ash vs Evil Dead proved to be a huge critical success and brought even greater attention to the franchise. Sadly however after its conclusion in 2018, Bruce Campbell announced that he intended to retire the character of Ash, seemingly bringing an end to the franchise for good.
Buffy the Vampire Slayer originally began as a film in 1992, starring Kristy Swanson as Buffy. Its premise revolved around one girl in every generation, known as the Slayer being granted the strength and power to hunt Vampires. The latest Slayer, Buffy Summers, is approached by Merrick, a member of an organisation known as the Watchers, to combat the ancient Vampire king Lothos (played by Rutger Hauer.)
Merrick is killed by Lothos, who later launches an attack on Buffy's school. Ultimately however unlike all of the Slayers before her. Buffy is able to slay Lothos by going against the rules of the Watchers and doing things her own way.
The Buffy movie was a moderate success, though Joss Whedon was reportedly unhappy with it. He felt that they toned down the horror aspects, and theme of female empowerment from his original script too much.
5 years later Whedon would revive the project as a series. The series, which starred Sarah Michelle Gellar as Buffy, was a loose sequel to the original film. It takes place several months later and shows Buffy moving to Sunnydale, desperate to move on with her life, only to be approached by another Watcher, Rupert Giles (played by Anthony Stewart Head.)
Buffy at first refuses to continue on as the slayer after the events of the first film, only to be forced into action when her new friends Willow (played by Alyson Hannigan) and Xander (played by Nicholas Brendon) are attacked by Vampires. Buffy later discovers that Sunnydale is built over a portal to a hell dimension which makes it a magnet for not only Vampires, but Demons, Werewolves, Witches and other supernatural creatures.
Buffy's main adversary was initially The Master, an ancient Vampire king, buried below Sunnydale who sought to open the Hellmouth and allow the Demons trapped within to emerge back into our world and conquer humanity.
Over the course of the series Buffy would go on to battle various other monsters, such as Demons, Ghosts, Werewolves, Zombies, Witches, Gods, Robots and even Aliens from outer space! The core cast would also expand over the course of the series too.
Arguably the two most significant supporting character in the series, outside of Buffy's original three friends, were Buffy's two love interests. The Vampires, Angel and Spike (played by David Boreanaz and James Marsters.)
Angel was introduced in the shows first series initially as a mystery man who gave Buffy cryptic advice on Vampires. Part way through season 1 however Angel was revealed to be a Vampire, cursed with a human soul, and therefore capable of feeling remorse. Angel and Buffy would fall in love in season 2, though later that year Angel would lose his soul. Reverting to the evil Angelus he had been before. Angelus would serve as the main antagonist for the shows second season. After gaining his soul back at the end of season 2, Angel would later gain his own spin off series, simply titled Angel that would run for 5 seasons and become a major and influential cult hit in its own right.
Spike meanwhile initially began as an enemy of Buffy's in season two and would continue to recur as a villain until season 4 when he was kidnapped by The Initiative. An organisation devoted to tracking down and experimenting on supernatural creatures. The Initiative implanted a chip in Spike's brain that caused him pain every time he attempted to hurt someone, but not Demons, resulting in Spike becoming an unlikely ally of Buffy's.
In season 5 Spike falls in love with Buffy, which leads to a destructive and abusive relationship between the Vampire and the Slayer, culminating in Spike's attempt to rape her in season 6. Following this Spike would later win himself a soul and find redemption by sacrificing himself in the season finale of Buffy, before being resurrected as a regular for the final season of Angel.
The series was initially conceived as a "High School is hell" metaphor, but later series would depict Buffy in college and as a young adult. Outside of her battles with the undead, the series also saw Buffy cope with everyday personal problems such as her mother dying and subsequently being forced to raise her little sister Dawn.
At the end of the series. Buffy, much like in the original film, goes against the Slayer rules, and has Willow (who over the course of the series becomes a powerful Witch) cast a massive spell which turns every potential Slayer into a Slayer.
Buffy finished in 2003 after 7 season, whilst Angel finished the following year in 2004. 3 years later however, both Buffy and Angel's stories were continued via two comic book series which are still going as of the writing of this article.
The official comic book continuation of Buffy and Angel which is said to be canon according to Buffy creator Joss Whedon. 
In 2018, Joss Whedon announced that he would be remaking Buffy, 15 years after the original finished its run. No details are known about the casting or plot at present.
Both Buffy and Evil Dead would go onto be very influential on subsequent horror films and television series, with the characters of Ash and Buffy being among the most iconic horror characters. Edgar Wright, the director of Shaun of the Dead has cited Evil Dead 2 as one of his biggest influences, as has Eric Kripke, the creator of Supernatural. The makers of both Charmed and the 21st century version of Doctor Who meanwhile have both credited Buffy with inspiring and paving the way for them.
The stars of both franchises such as James Marsters, Bruce Campbell, Ted Raimi and Eliza Dushku have also gone on to land major and leading roles in various other cult series and films as a result of both franchises popularity.
Evil Dead's Influence on Buffy
Joss Whedon, the creator of Buffy and Angel is a fan of the Evil Dead franchise, having cited it as a big influence.
There have even been a few direct references to Evil Dead in Buffy, such as the First Evil shouting "DEAD BY SUNRISE!" in an homage to "DEAD BY DAWN" the tagline of Evil Dead 2, and a phrase that is frequently shouted by the Demons of the series. In the episode Crush, Xander also refers to Spike as "The Evil Dead."
Whedon's later horror movie, Cabin in the Woods followed the same basic premise as Evil Dead. It sees a group of twenty somethings become lost in a cabin in the woods, and after reading from a book, they end up unleashing ancient Lovecraftian Demons into the world. There is even a reference to the Deadites, the main villains from the Evil Dead franchise too.
With this in mind it is likely that at least some of the similarities between both franchises were intentional. There's nothing wrong with this. All works of fiction take from others (including Evil Dead which borrowed from everything from The Three Stooges to HP Lovecraft.) Nothing is truly original, but still I think its fair to say that the Evil Dead in many ways was a predecessor to Buffy.
Interestingly enough however Bruce Campbell is a huge Buffy fan and has included a few references to it in his work too. In My Name is Bruce, Campbell's fictionalized version of himself, who is called in to fight a Demon by one of his fans. Says after the Demon is seemingly slain.  "Next time there is a Demon. Call that Buffy chick."
Finally the season 2 episode of Ash vs Evil Dead called Delusion, where a Demon attempts to trick Ash into believing that the supernatural are all figments of his imagination, was inspired by the Buffy the Vampire Slayer episode, Normal Again, which featured a similar plot.
Similarities
Both Revolve Around A Reluctant Chosen One
Both Evil Dead and Buffy revolve around a hero who is chosen by the forces of good to fight Demons and monsters. Both are even regularly referred to as the chosen one.
Ironically however in both cases the chosen one is, on the surface at least. Not anybody's ideal idea of a hero and is extremely reluctant to be a hero too.
Ash is shallow, lazy, unmotivated, arrogant, egocentric, and at times, somewhat lecherous.
Buffy meanwhile though not nearly as unsympathetic or unlikable as Ash, is still, in the original movie at least. Initially shown to be quite shallow, spoiled and vapid.
Both Buffy and Ash regularly quit being the chosen one for long periods at a time, such as at the end of season 1 of Ash vs Evil Dead, and the end of season 2 of Buffy. It would be unthinkable for another Vampire hunter character like Blade or Peter Cushing's Van Helsing to quit.
Both Buffy and Ash also regularly screw things up, such as when Ash says the wrong words to release the Necronomicon in Army of Darkness, or when Buffy leads dozens of young girls to their deaths at the hands of Caleb.
Both are even responsible for unleashing a lot of the monsters they face. Ash unleashes the Demons in season 1 of Ash vs Evil Dead when he reads from the book to try and impress a girl, (whilst he's stoned.) Buffy meanwhile is responsible for letting the Master go free in Prophecy Girl when she blunders head first into his base. In season 2, Buffy also inadvertently causes Angel to lose his soul. To be fair to Buffy in regards to Angelus, unlike Ash's many screw up, she had absolutely no idea that Angel would lose his soul. Still to have the hero be responsible for letting the villain be free in any way is again not something that you could imagine with most other heroes.
Buffy and Ash's flaws do sometimes make them come over as unsympathetic and selfish, but at other times they can make both characters seem more human, which is why both have such an enduring popularity.
Who wouldn't react the way Buffy and Ash do a lot of the time? Imagine being told that you will have to spend the rest of your life fighting the most hideous, evil, bloodthirsty monsters. That you'll never be able to have a family, or any kind of normal life again, and that the rest of your life will probably be very short. You'd have a right to be pissed off and ask why does all of this have to fall on your shoulders?
Unlike Blade or Peter Cushing who make it a mission to hunt the forces of darkness, Ash and Buffy are thrown into it unprepared.
Buffy and Ash in both cases later gather together a group of misfits, and unconventional heroes to help them battle the paranormal. The Ghost Beaters in Ash's case, and the Scooby Gang in Buffys.
Buffy and Ash's unconventional status as heroes is regularly used as a source of comedy and tragedy in both series, which leads to my next point.
They Both Mix Horror and Comedy
Evil Dead and Buffy are not the only examples of the horror and comedy genres being merged together.
However I think its fair to say that they represent arguably the most extreme examples. Most other horror comedies tend to settle on being largely one over the other.
Scary Movie for instance is totally a comedy with a horror movie setting, whilst An American Werewolf in London might have humorous, and witty moments, but it is still largely a horror movie.
With Buffy and Evil Dead however the comedy is so severe that it is more or less a complete parody, whilst the horror in both franchises represent some of the most extreme and gruesome in the history of the genre in either film or television.
The jump from comedy to horror is so large as you can see from the two clips above, if you were to watch both clips in isolation you probably wouldn't believe they were from the same show!
Both Buffy and Evil Dead are able to merge both genres together so well because they make everything so extreme. The monsters are so over the top, even just in terms of appearance that the viewers are able to accept the horror and comedy being so over the top as a result.
Buffy Vampires vs The Deadites
The main villains of both franchises possess many strong similarities with one another in the following ways.
Origins
The gigantic, Lovecraftian, tentacled creators of the Vampires and the Deadites.
In both the Buffy and Evil Dead mythology, gigantic god like Demons were said to have ruled the earth many thousands of years before recorded history began. They made the earth a hell before being banished to another dimension, allowing the age of man to begin.
In Evil Dead's case these Demons were referred to as the Dark Ones, whilst in Buffy they were referred to as the Old Ones. Both are based on the Old Ones from HP Lovecraft's Cthulu mythos.
The Dark Ones were banished by one of their own, Ruby, through a book called the Necronomicon, which she hoped to use to control them. Ruby however was later stripped of her powers. In Buffy it is not known who banished the Old Ones, but the Demons were cast through a portal to hell, located beneath Sunnydale (which is referred to as the Hellmouth.)
The Vampires and the Deadites meanwhile are lesser creatures created by the Dark Ones/Old Ones to help them escape. The Deadites are released through the Necronomicon, and their goal in all three films, and the tv series, is to use the book to release the Dark Ones to overthrow humanity and bring hell on earth.
In Buffy meanwhile the Vampires were created when one of the Old Ones fed on a human and infected him, turning him into a Demon/human hybrid. He then went on to infect another and another, creating the Vampire race. Vampires main aim in Buffy is similar to the Deadites, as they hope to open the Hellmouth and release the Old Ones to overthrow humanity and bring about hell on earth.
They're Both Demon/Human Hybrids
The Deadites and the Vampires are not people at all. They are Demons who inhabit the corpses of humans. They absorb the memories of the human bodies they take over, and even some negative personality traits, but they are still not the people whose bodies they take over in the slightest. In some cases they even refer to their predecessors in the third person.
In both franchises we see a few instances of the Demon inside of Deadites and Vampires outside of a human body and it is depicted as nothing more than a savage animal. Therefore the entire Vampire or Deadites personality comes from the memories of the host it takes over. The Demon that possesses Deadites is referred to as a Kandarian Demon, whilst the Demon that possesses Vampires is referred to as a Van-Tal.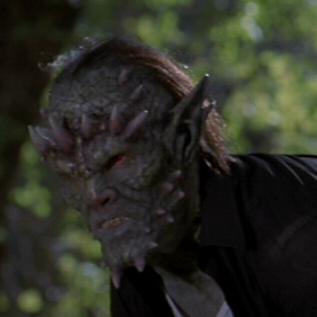 The Van-Tal Demon left, and the Kandarian Demon right, without human bodies to inhabit. Vampires and Deadites only refer to the combination of these Demons in a human body.
Both Demons will often use their hosts memories to trick and torment their loved ones.
Examples of this include in Evil Dead 2 where the Demonic version of Henrietta attempts to trick her daughter Annie into releasing her by singing a lullaby the real Henrietta used to sing to Annie when she was a little girl, or in Ash Vs Evil Dead when Kelly's mom is possessed and the Demon uses her memories to repeatedly torment Kelly.
First the Demon lets Kelly think her mother is alive, (after she was killed in a freak accident 6 months earlier.) It lies to Kelly and claims that she was injured and suffered amnesia for 6 months, before it murders her father. Even after killing her father however. The Demon manages to trick Kelly again, making Kelly believe that her mother is merely possessed and that she can fight it with Kelly's help. Worst of all the Demon later lies to Kelly that her mother wasn't killed in an accident, but that she in fact killed herself to escape her failure of a daughter!
Spike's mother similarly after she is turned into a Vampire enjoys tormenting her son, by claiming that she never loved him, always regarded him as a failure, and worse that she had a sexual attraction to him!
In both cases we know that neither Spike nor Kelly's mother viewed their children that way. Sadly however from Spike and Kelly's point of view, there would always be a tiny grain of doubt, as the Demon has access to their memories and inner thoughts. This tiny grain of doubt is shown to torment Spike and Kelly for practically the rest of their lives.
At the same time however whilst the Demons are able to use their hosts memories to torment or trick people, ironically there are some instances where their hosts memories can affect them to some extent. The Demons can even end up having a fleeting affection for their hosts loved ones.
Examples of this include the Demonic version of Henrietta who is shown to become visibly moved when the real Henrietta's daughter Annie sings (ironically the lullaby the Demon had attempted to trick Annie with earlier) purely due to Henrietta's memories. This ultimately allows Ash enough time to slay the beast.
Similarly in Buffy both Spike and Drusilla, even as Vampires still love their parents. Spike even goes as far as to turn his mother into a Vampire, whilst Drusilla later takes a pleasure in torturing Angel as revenge for killing her loved ones.  Even though technically Drusilla is a Demon, merely inhabiting the corpse of the young woman whose actual loved ones Angelus killed. Once again the hosts memories are enough to trick Drusilla into caring about their deaths, just like Henrietta and Annie.
Whilst not humans, the Deadites and the Vampires do draw a fine line between Demon and human. They also explore the idea of our memories really defining who we are more than anything else to the point where an evil Demon from hell can still feel affection and love, simply due to inheriting our memories.
They Are Both Completely Evil
The Buffy Vampires and Deadites are both evil, sadistic monsters who enjoy not only killing, but torturing their victims. Despite the very rare, fleeting moments of affection from some Demons and Vampires. There are virtually no shades of grey to either.
They are all colossal perverts who frequently sexually abuse their victims too, or are at least shown to derive a perverse pleasure from torture.
Examples of this include Angelus who was shown to frequently rape his female victims, Marcus a Vampire who enjoyed torturing, raping and killing children, and even Spike who mentioned doing horrible things to girls Dawn's age.
In the Evil Dead meanwhile Ruby's Demon children similarly mention a desire to gang rape Kelly, whilst another female Deadite tears a man's penis off whilst giving him a blow job. Then there is the notorious tree rape scene from the first Evil Dead.
With this in mind, coupled with the fact that they aren't people at all, just Demons inhabiting, and therefore really desecrating human corpses. There is absolutely no moral ambiguity in killing Deadites or Vampires at all. The main heroes, Buffy and Ash can kill them in the most gruesome and over the top ways, and not once does any other character, or the viewers question if they are doing the right thing. If anything its extremely satisfying watching the Vampires and the Deadites suffer the most gruesome deaths.
In both cases however they're both such perverts that they often enjoy being beaten up and tortured to an extent.
The Vampires and the Deadites ridiculous cruelty is often what allows both Buffy and Evil Dead to frequently switch between such overt comedy and such visceral horror. Sometimes their cruelty can be used in a more petty, comical way, with the Vampires and the Deadites being portrayed as homicidal trolls, or just jerks, whilst in other instances they can be portrayed as horrifying, sexual predators.
They Both Look Similar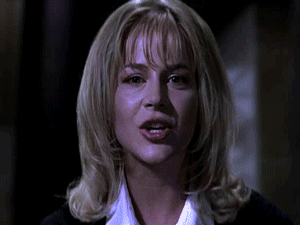 Vampires and Deadites can appear human, but when they attack they revert to their true Demon form. Their Demon forms look somewhat similar. They both have large, bumpy foreheads, yellow eyes (in some cases) slightly paler skin, and sharp teeth.
Joss Whedon himself even said that he preferred the more overt Vampire make up for the creatures in the earlier seasons, because it reminded him of the creatures in old horror films like Evil Dead.
Finally as if those similarities weren't enough, both the Deadites and the Buffy Vampires main enemies are a reluctant hero, who is picked by the forces of good to do battle against them, and is referred to as The Chosen One.
They Both Span Multiple Mediums
Buffy and Evil Dead have had a greater success across several different mediums than most other horror franchises.
Big tv hits like Supernatural, Charmed, Being Human, Hex etc, have not crossed over into film or comic books or video games as frequently as Evil Dead and Buffy. Charmed did produce a sequel comic book series, but only one very basic mobile video game and never (to date) a film. Similarly many horror film franchises like Alien, Halloween, and Friday the 13th have not crossed over into television, whilst those who have such as A Nightmare on Elm Street and Scream have not crossed over into the video game medium with as much success.
Meanwhile I think its safe to say that not many horror franchises have spawned musicals!
It's even more incredible when you consider that Buffy and Evil Dead have largely been produced by the same people over the decades. The 92 movie may have deviated from Joss' original idea, but it was still his script.
There are many reasons as to why these two franchises have been able to cross over across so many different mediums more than others.
The fact that they lend themselves to parody more than other franchises is what allowed both to have musical instalments.
At the same time the fact that they do treat their horror seriously, and are even willing to go the extra mile in terms of gore and visceral content (up to and including showing people be skinned alive on screen!) Means that both can just as easily be adapted into terrifying, shocking horror movies too.
The fact that both have such wide universes and mythology, allows them to be adapted as television series, comic books and video games. The fact that they both star such dynamic and over the top action heroes also makes them both a natural fit for video games and comic books too. Even Supernatural and Charmed though having a wide enough universe, both of their leading heroes are more toned down compared to Buffy and Ash. Sam and Dean are ordinary humans (most of the time) who have to rely on spells, and weapons and don't tend to do as much over the top physical fighting as Buffy, whilst similarly, the Charmed Ones tend to rely on spells and potions to destroy Demons.
Buffy meanwhile has super strength, stabs her enemies, cuts their heads off,  and burns and beats them to death. Ash similarly has a chainsaw hand, hacks his enemies to pieces and gets involved in the most over the top surreal fights scenes.
You can see how both characters could easily translate into the comic books and video game mediums.
Conclusion
As you can see there are a number of similarities between Buffy and Evil Dead. Both feature more human, flawed, reluctant heroes, both merge extreme horror and comedy together, and both feature main antagonists who are the lesser minions of Lovecraftian Demon Gods, whose main goal is to free their masters and cause as much havoc as possible.
Finally due to their larger than life nature and dynamic, action leads, both have been able to conquer just about every medium.
The key difference between the two franchises is that The Evil Dead is aimed more at guys, whilst Buffy the Vampire Slayer is aimed more at women.
Both franchises are hugely popular among both genders, and there are plenty of strong, heroic and villainous roles for both genders in both franchises.
However that said I do think that Evil Dead is aimed primarily more at men simply because it is more of an action series. It focuses solely on the horror, the gore, the monsters. There is some romance in it, but its usually very fleeting. Most of Ash's love interests are either killed such as Linda and Amanda, or forgotten about. Similarly Kelly and Pablo's will they, won't they romance, is largely in the background throughout most of the series.
Buffy meanwhile, whilst having a healthy dose of action and horror too, tends to focus a lot more on the soap opera elements than Evil Dead. We see more of her home life, and later seasons, such as most notably season 6 focus almost entirely on Buffy's love life, as well as the love lives of her friends like Xander and Willow, with the monsters being pushed into the background.
I'm not saying that you don't get plenty of women who love horror and gore and action, and plenty of men who enjoy romance stories. Overall though I think its fair to say that women tend to enjoy romance more, whilst men tend to enjoy action more.
Buffy and Evil Dead are similar to this respect in Supernatural and Charmed, in that Supernatural and Charmed also represent a similar idea told from a different genders perspective.
With this in mind, and considering the good will there is between the makers of both franchises. I'm amazed that there has never been a crossover between Buffy and The Evil Dead.
Ash has crossed over with Xena, Friday the 13th and Nightmare on Elm Street, but none of them in my opinion are as good a fit as Buffy would be.
I'd love to see a story where the Deadites posses Willow and make her start skinning people at random, like she did to Warren.
Deadite Willow would be the most horrifying villain in either franchise!
The Deadites could easily exist in Buffy's universe, and the Buffy Demons could easily exist in Evil Dead's. We know that there are hundreds of species of Demons in both franchises.
Furthermore as the lore is so similar, then they could easily fit together, unlike say Buffy and Supernatural, which has a totally different origin for Demons and Vampires.
If anything Evil Dead could explain who banished the Old Ones in Buffy. We never found out who did banish the Old Ones in Buffy? Maybe it was Ruby, who banished the Demons she couldn't control through the hellmouth, and the ones she did hope to control into the Necronomicon. The Dark Ones and the Old Ones could easily be the same creatures. They more or less are. All you'd have to explain would be that some people call them the Old Ones, and others call them the Dark Ones.
Maybe with this in mind the Vampires and the Deadites are cousin races. Both created by the Dark/Old Ones, to free them from hell?
Whilst it will never happen in live action, I'd love to see a comic series that brings Evil Dead and Buffy together, and sees the Ghost Beaters and the Scoobies team up to take on some ancient Vampires and Deadites who plan to free the Old/Dark Ones from hell.
Thanks for reading.